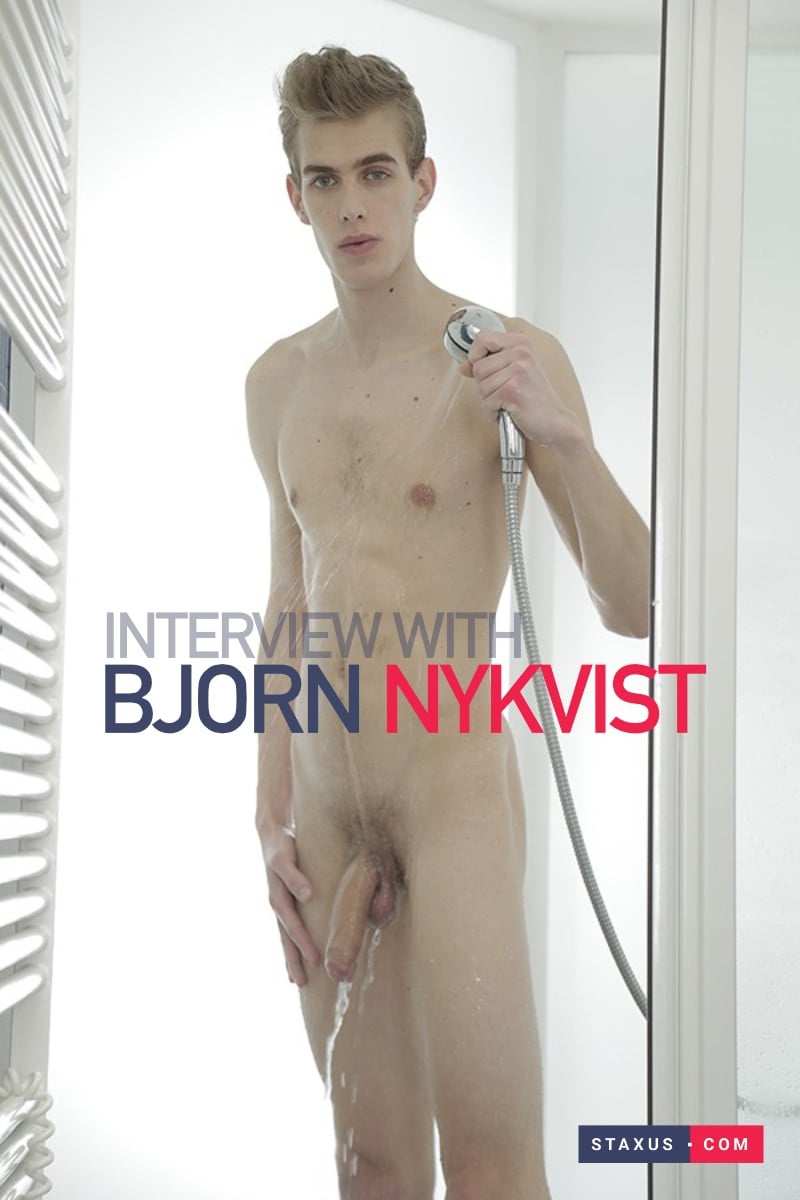 We spoke to stunning blond Staxus model, Bjorn Nykvist and discuss everything from underwear to superpowers!
Let's get straight to the nitty gritty. What's it like to be a porn star at the age of just 21?
It's great, although I actually never planned to become a porn star. I'm happy to know that so many guys out there like to watch me and what I do, but after having finished my very first shoot I was far away from thinking that I could be called a porn star some months later! I was kind of surprised, positively of course.
How did you decide to get into porn and how did you feel when you first began?
I always liked to watch porn and when I did that together with a friend of mine he told me about Staxus and their work. He encouraged me to contact them, so I took some pics of me and my dick and to my surprise they invited me for a shoot. Without my friend supporting me I don't think I would have had the courage to apply. I know that I have a big cock, but nevertheless I am also insecure sometimes about myself. But I guess that's normal for every man out there. When I arrived at the set for the very first time, Staxus really took care of me and made me feel good every moment.
By watching good porn I have learned many new things I didn't know about before. New wanking techniques, great toys to play with, new sex positions and so on.
Do you think that porn plays a part in educating people about sex and sexuality?
Oh yes, I do. My generation grows up with mobile phones and free low-quality sex videos on tube sites, so everyone watches it any time. By watching good porn I have learned many new things I didn't know about before. New wanking techniques, great toys to play with, new sex positions, and so on. So porn is good to show people what can be possible. But people should keep in mind that porn is more or less fantasy. You don't have to copy porn action into your private sex life and no one should think less of you if you cannot copy every extravagant sex position you ever saw in a video. Porn is entertainment and I like it.
How many porn videos have you made now, and which would you say stands out as your favourite scene?
Don't ask me for the number, please! Haha I lost count! It should be round about 15 or 20 scenes with me and I liked them all. Of course, sometimes you like a scene partner a bit more than the others, but all guys I had sex with were really nice and lovely. If I had to name my favourite scene I would say the one with Jaro Stone for "Hung Jury." Jaro is one of the few out there whose cock is equal to mine haha.
What three qualities do you think are needed to be a good porn star?
If you are shy, then forget it. You really should be able to walk around on set without constantly covering your cock with your hands. The second quality should be reliability. If you are not reliable and don't appear on set in time, you won't be hired twice. And the third quality is good looks of course. Someone told me that you don't have to be the most beautiful flower in the garden, but you have to have something special what separates you from the others.
Who have you worked with most at Staxus, and why do you think you were paired up more than any other stars?
I think Lucas Drake was the one I was paired up with more than just once. He is one of the most energetic lovers I ever met and that means a lot haha. There was a special connection between us and the fact that we both speak the same language makes things even more easy.
Do you get to own the skimpy underwear you have in your videos or are they part of the studio wardrobe?
You will laugh, but that was one of my first questions on set! I really like sexy underwear and even if I prefer white briefs in daily life, I want to show off with my sexy underwear when I have a sex date. But to answer your question: Yes, we can keep the underwear after the shooting if we want to.
Can we talk a little about your personal life? When did you first realise you were gay?
In my late teens I think. I had a very special buddy and occassionally we wanked together to some straight porn. Some day we wanked each other off and then I started to realise that it was not the straight porn playing which made me hot and horny, it was the sight of my buddy's cock and watching him wank. Years later I wished that I had taken the chance back then to fuck his ass, but hey, that's life.
What is it like for a young gay guy growing up in Eastern Europe?
It's okay. I don't think it's easier or more difficult compared to other countries in the world. You will always meet people who don't accept you the way you are and you will always meet people who take you as the person you are. People in Eastern Europe are not as small-minded as they were. At least not the ones in bigger cities haha
If you could have two superpowers, which would they be and why?
X-ray eyes to see the cocks of strangers walking by. That would make dating much more efficient haha. The second superpower would be to disable local speed cameras with the powers of my will. So I could drive fast without being prosecuted haha.
You're versatile in your porn videos, but do you have a preference in real life?
I really like to fuck tight asses, so I think I prefer being a top. That matches with most of my partners because when I have a date with someone and I take him home, I am asked to top. Everybody likes to get stuffed by my long cock and I love to feel it gliding in a nice ass. But you are right, I also like to be the bottom.
Where's your favourite place to have sex?
I like sex in exciting places, public parks or public toilets for example. There's always the risk of being caught in the act and that really turns me on. In daily life I love sex in the showers. A wet body has a certain appeal to me.
Are you currently seeing anyone special?
Not at the moment, unfortunately. Now and then I dated someone I thought he could be Mr. Right, but until now I haven't met him yet. Having no boyfriend also has good sides because I don't have to explain myself to anyone when I want to hook up with someone I find attractive.
From the world of porn, who would be your dream date?
Oh that is a difficult question. I think Ray Mannix would be on top of the list and if he's not available then Jack Harrer. Both are incredibly sexy boys and have very nice asses to fuck. And I would love to compare cock sizes with Jack, I think I could beat him haha.
If you had all the money in the world, what would you be doing right now?
I would buy the fastest car available and a build a race circuits and hire the best race drivers to teach me everything.
What's the best way to seduce someone?
Depends on what you want. If you're just focused on having sex, then there's nothing better than eye contact and then rub the bulge in your pants – and that's it. But if you want to seduce someone you really love, then all should start with a gentle kiss. Kissing is the most wonderful thing on earth and the best thing about is that it usually leads to fucking haha!
Who is your favourite person to follow on Twitter?
I am not really active on Twitter. I prefer hook up sites and local clubs and bars, but I am not interested to see the picture of someone's lunch.