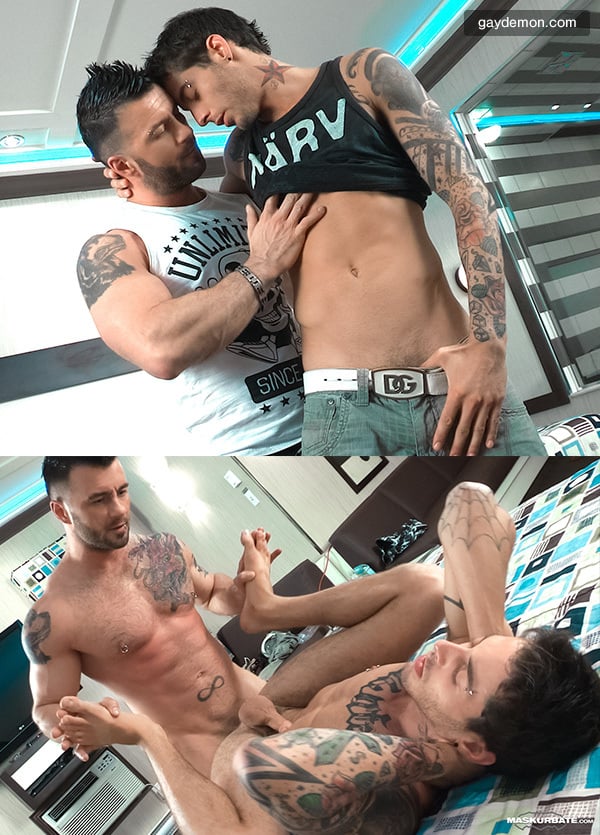 Maskurbate's men usually wear eye masks while they're jacking off or getting blown, but producer Pascal has been filming the odd unmasked scene. Manuel Deboxer doesn't wear a mask, he's the usually one taking care of some muscle hunk's cock. When this Maskurbate scene opens, Manuel and Ben Rose are sitting on the bed and Ben's wearing a leather eye masks. "Ben, we know who you are," Pascal laughs. "Take the mask off."
I really enjoyed this scene. I like both slender guys and muscle men. I'm a bear myself, but I always seem to pair up with slim guys, proving the old adage about opposites attract. I love inked men, so either way Ben Rose is right up my alley. And of course who could refuse a romp with Deboxeur? He's handsome, well built, furry, and has a thick, uncut cock. He's also a big turn-on for me.
If you've read very many of my posts, you'll know I'm a big fan of men's feet. And there's a fucking sequence here that had me busting to blow my nut. Ben is lying back on the bed and Manuel is holding Ben's feet with his fingers entwined in Ben's toes and he's pumping ass. I loved this. Touching a man's feet gives you a deeper connection that you don't get otherwise. Well, provided the man has feet nice enough to touch -- Ben does. That one moment gave me something to think about all day. I wish we had more of these tender moments in gay porn.