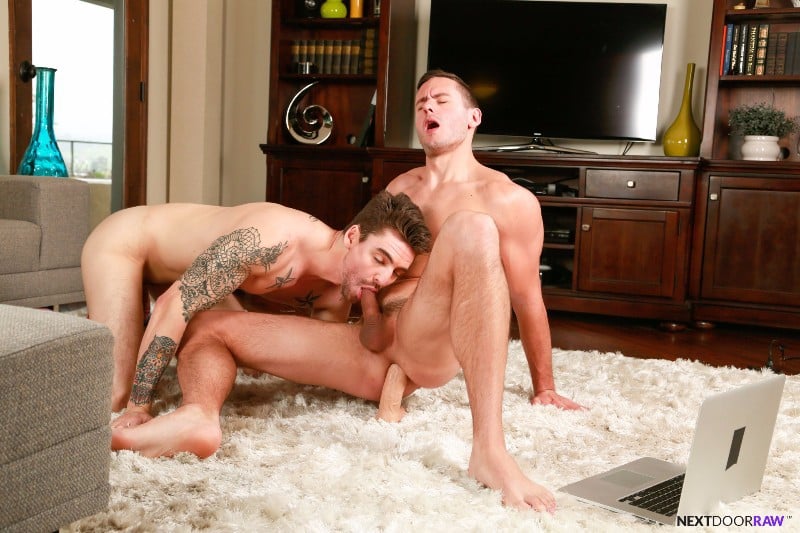 Sitting on the living room floor, Brenner Bolton is watching is favourite Johnny Torque video on the laptop and working a dildo into his ass. He's wishing Johnny were there stuffing his long dick inside him. Then Brenner hears a voice behind him, "Looks like you're having a nice dream there." Come inside and see how Brenner's fantasy pans out.
Next Door Raw is a brand new bareback site and the first video I watched had Johnny Torque screwing the daylights out of Dante Martin. Torque fucks and fucks and Dante takes everything he's got and it looks like he's going to wear out before his top does. I was never really a fan of Torque, so I never watched any of his scenes. But I'm glad I watched his debut video for the new site, it's a ball buster -- I've jacked off five times watching it.
When I saw him back again fucking Brenner Bolton, I had to check it out. Torque strips and gets down on the floor. Brenner already has the dildo buried deep in his ass, so Torque blows him. After Brenner gets a taste of Johnny's dick, the fucking begins. And it's everything I hoped it would be. Torque sure eats his Wheaties for breakfast. He fucks Brenner all over that living and finally explodes all over his ass and nuts before plunging back in to finish draining his balls. What a big fucking squirting load!