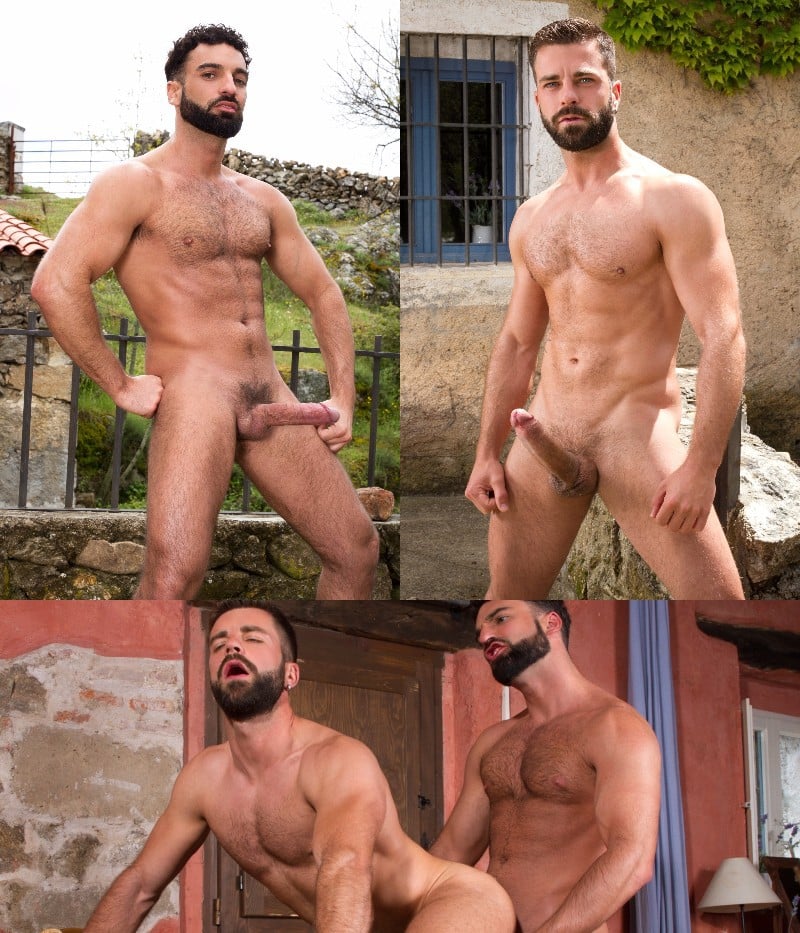 Get a 3-Day Trial at Raging Stallion for $4.95
Exciting news from Raging Stallion Studios, their latest DVD called Hung Country features the hottest line-up of men we've seen in a very long time. And the cast is packed with European hunks: Abraham Al Malek, Hector de Silva, Emir Boscatto, Dani Robles, Martin Mazza, Antonio Miracle, Sergyo Caruso, and Josh Milk. Come inside and check out the first scene with Abraham Al Malek and Hector de Silva. Oh, and there's more exciting news inside.
Hung Country is the first Raging Stallion series is a ages that takes the men off the black box featured in just about every production from the studio lately. Actually I lie, recently Men of Madrid also filmed outside the black room, but otherwise, dozens of scenes have been shot on one black box or another. And now, Raging Stallion goes to the Spanish countryside ... heavens to Betsy, what's next from them? Bareback sex? Fingers crossed.
The other big news around Hung Country is that Raging Stallion has shanghaied a number of Men at Play models. Hector de Silva, Emir Boscatto, Dani Robles, and Sergyo Caruso are all regular performers on the British suit site; although de Silva and Robles have already filmed with MEN.com. The final piece of hot news regarding this scene is that Hector de Silva and Abraham Al Malek flip fuck, and in the final minute of the scene Hector covers Abraham's hairy chest. Stay tuned, I'll be covering more of Hung Country as the scenes come out, but for now you can watch Hector and Abraham fuck each other in the debut scene.