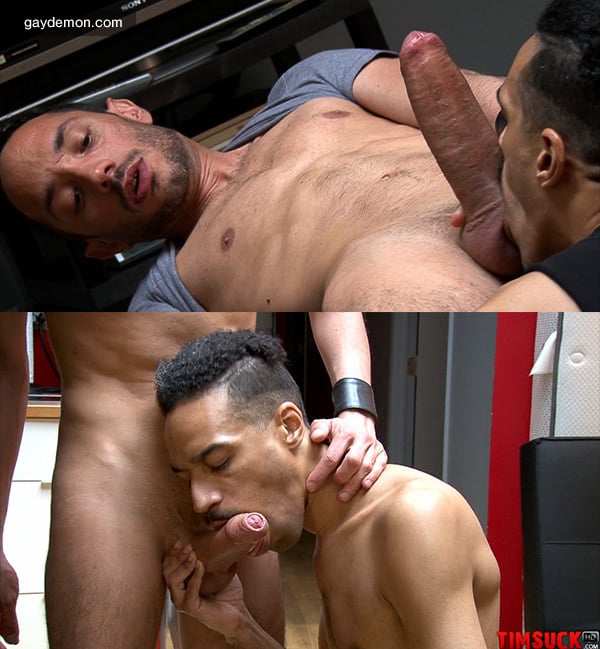 I'm really sorry that TIM Suck didn't give me any pictures showing Jax Pratt swallowing all of Esteban's monster meat. Geezuz. This boy can suck dick. And balls deep. If you ever run into this lad out somewhere, drag him home -- your cock will be singing a hallelujah chorus for weeks.
Jax Pratt has a huge cock and he's gotten it serviced on TIM Suck, but for his next scene he wanted to get on his knees. His only stipulation: the guy had to be just as well hung. Treasure Island loves these kinds of challenges, so they brought Esteban into the studio swinging his large, fat, uncut meat, and in true TIM nastiest fashion, Esteban is even bigger than Jax -- take that, bitch!
Watching Pratt deep throat this slab is impressive. I think Esteban was even surprised because he wouldn't let go of Pratt's head, he wanted his horse cock pushing down the Pratt's throat over and over. Pratt took the eye-watering punishment and didn't complain much, but his eyes almost popped out of his head once.
Esteban rewards this nob swallower for a job well done by dousing his face with cum. Pratt has his mouth open, but Esteban sprays like a squeezed hose and his watery jizz squirts all over the floor, across Pratt's face, and yes, he does manage to get some juice into Pratt's gaping bulls eye. Wow!