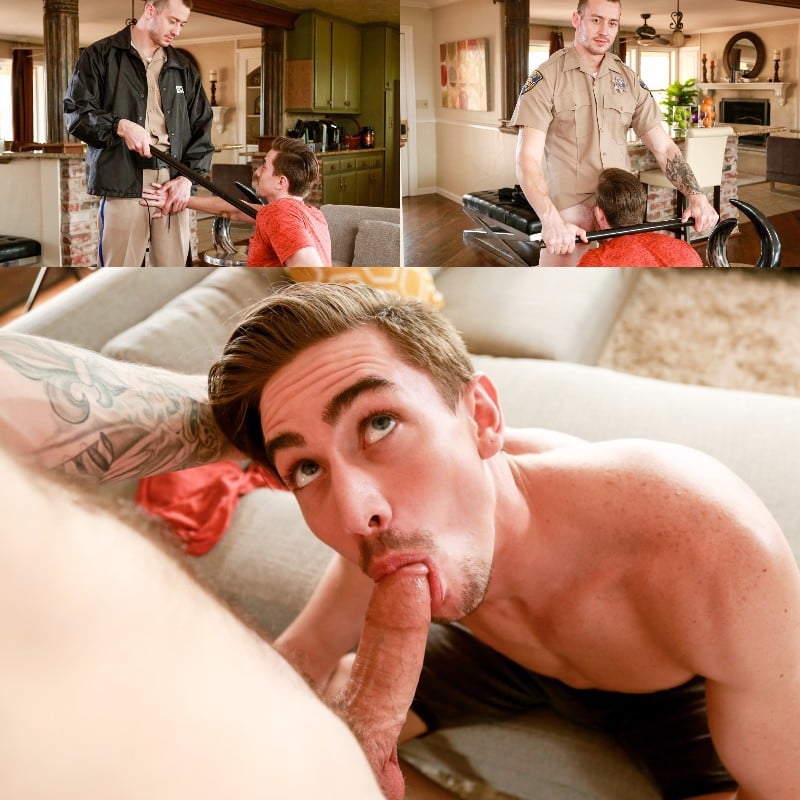 Get a $1.00 Trial Now at Next Door Raw
Something has Jack Hunter spooked so he calls security to come and investigate. When Keeping Things Interesting opens, security office Mark Long responds to the call. When he discovers Jack staring at his ample crotch, Long widens his stance and looks down, as if he's inviting Jack to make the next move. Does he?
While Jack Hunter is home all alone, it's high noon, so what the hell is he so afraid of? Or is it just a ruse to get the hunky security office alone in his house. Mark Long arrives and his spidey senses are pinging loudly, this wouldn't be the first time a home owner propositioned him for sex. "Do you not have a room mate or anyone who lives with you?" he asks. Jack says that he's got a boyfriend, but he's working and often gets held up at the office quite late.
Jack moves in and gropes the security officer's bulge. "Maybe we could help each other out." Long doesn't flinch. "That would complicate things," he says, then he pushes Jack onto the sofa with his nightstick and pulls out his other big stick. Jack doesn't need a formal invitation, he falls to his knees and gulps down Mark's eight-inch cock. The security officer is impressed with Jack's deep throat skills and bends him over the sofa to give this horny homeowner exactly what he wanted all along.