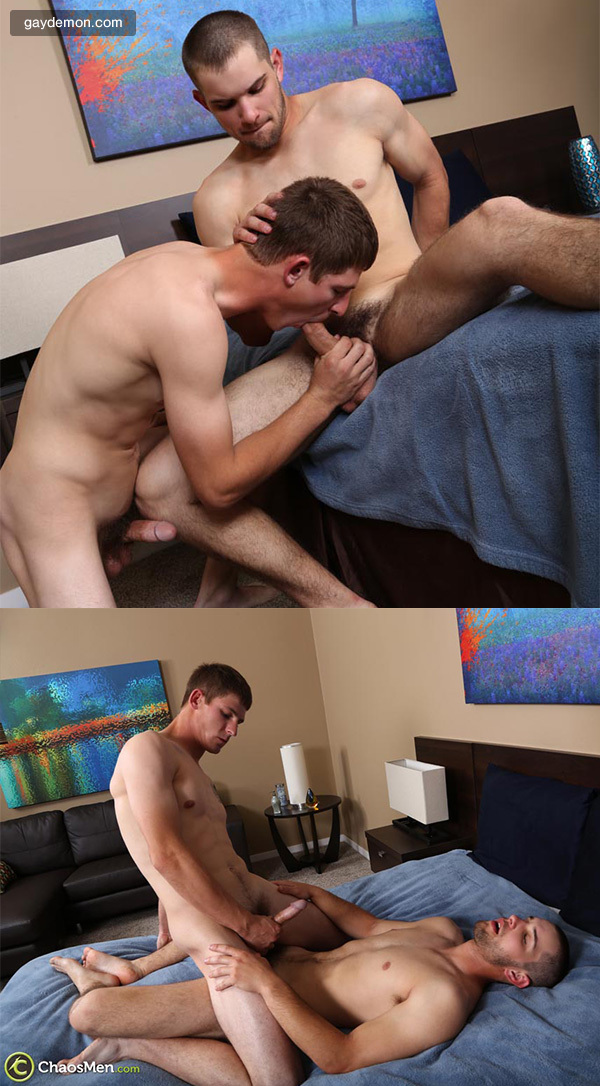 When Byron approached his wife about doing porn it was "no way" if it involved fucking other women, but she was thumbs way up if it Bryon would be sticking his dick in a guy's ass. This 22-year-old married guy has two kids and another on the way and he's got a good job, but he needs some extra cash for all the upcoming expenses -- poor bastard even showed up to this shoot without a coat, that's how bad it is.
Doing porn seemed to be a good way to make some fast cash without having to spend another 15 hours a week away from his family. It's funny how much the world has changed. A few years ago and Byron's wife probably would have freaked out seeing her husband on a gay porn site, and a couple of decades ago they'd probably be heading for divorce court if she found out her husband was fucking guys on the side. But in 2014, Byron's wife happily sends him off to Chaos Men as a second job.
And not only is Bryon having his first sex with a guy, but he's not just sitting back and getting serviced. (He did that already in his second video.) This time around he's doing his first hardcore scene with Glenn, a Chaos Men veteran, and Byron gives head for the first time, fucks Byron's ass, then he rides Glenn and shoots a load with a hard dick up his butt. And somehow is wife is okay with all of that! Like I said, things sure have changed.