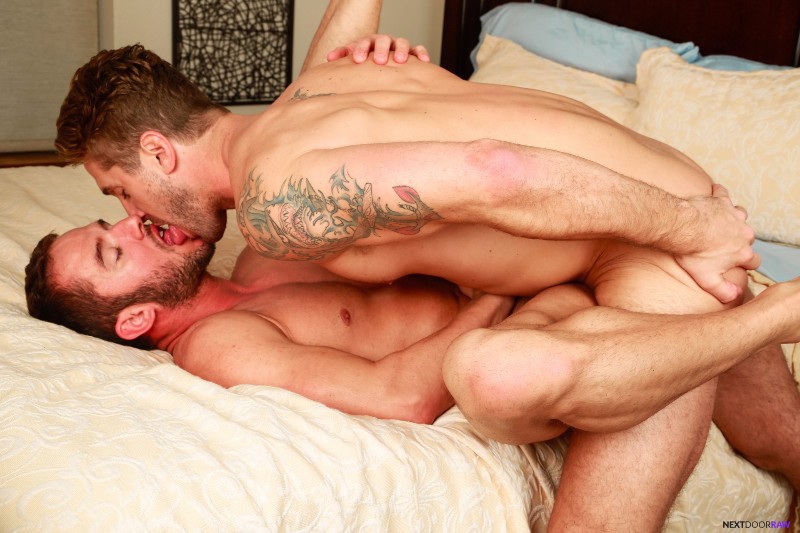 Get a One-Day Trial for $1.00 - Click Here
Jason Styles is back on Next Door Raw, but this week he's bottoming after topping Dante Martin in Fuck Roommates. In new scene Barely Reunited, Styles is meeting an old high school buddy (Wesley Woods) for the first time in a while and they've made plans to hang out, but Woods has a big surprise for his friend.
Earlier this morning, I was following a story where newcomer Wesley Woods was pissed at Naked Sword. Woods appears on the cover of Naked Sword's latest DVD called Fuck Me, I'm Famous with Mickey Taylor, but he's not credited on the cover, Colby Keller is. "Such a slap in the face to have your picture on a cover with someone else's name attached," tweets Woods. But I'm sure it's not a case of mistaken identity, but rather whose name is going to be the bigger draw, Colby Keller or a stand-up comedian trying to make it in Pornland? Regardless, this might have been a good lesson in not biting the hand that feeds you, but millennials seem to like learning things the hard way.
When Jason arrives, they head to Wesley's bedroom to hang out and catch up. Wesley comes out to his buddy and Jason says he doesn't mind, he has plenty of gay friends. Jason grabs Wesley's crotch saying, "Do they all suck your cock as well as I used to?" Oh, cat's out of the bag: Wesley and Jason used to dick around in high school. Jason resists Wesley at first, but when he agrees to give Wesley a quick taste, it's all over and the "straight" guy ends up with his legs in the air getting bare boned by his new gay friend.