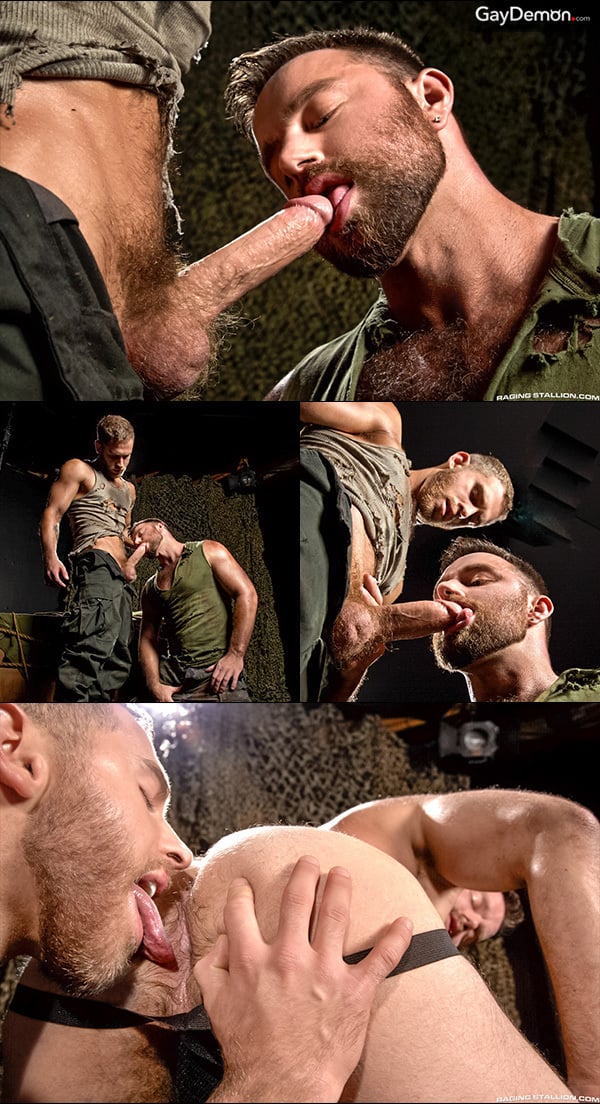 New scenes from Raging Stallion's Militia keep rolling out and this week's scene is a hot hairy pairing. I've always enjoyed watching both Heath Jordan and Shawn Wolfe, they're a couple of sexy, bearded hairy men. But bringing them together in one hot fuck scene gets my dick throbbing on overdrive.
Militia is one of those lame military movies where's there's not a whole lot of military action. Just a couple of men in camouflage pants and green army tank tops sucking and fucking on a box set up in front of some camouflage netting. But Jordan and Wolfe are so hot to watch that I really don't care about a story line and whether they look like real soldiers. Shawn Wolfe is a power fucker with a thick cock and he drills Heath Jordan's ass with fast, deep, and hard thrusts. Wolfe warps his fist around Jordan's jockstrap waist band and reins Jordan's ass, holding him steady while he pumps and thrusts into his meaty ass.
Jordan lies back on the box, hikes his boot up on Wolfe's shoulder and prepares himself for round two of Wolfe's thrusting bonanza. I do love watching this sexy top man fucking ass and he sure does work up a sweat with his muscled body glistening. And he fucks and fucks until he finally needs to unload his nuts. With Heath spunking all over his belly, Shawn's exhausted cock spews his creamy load all over Jordan's beard and chest.