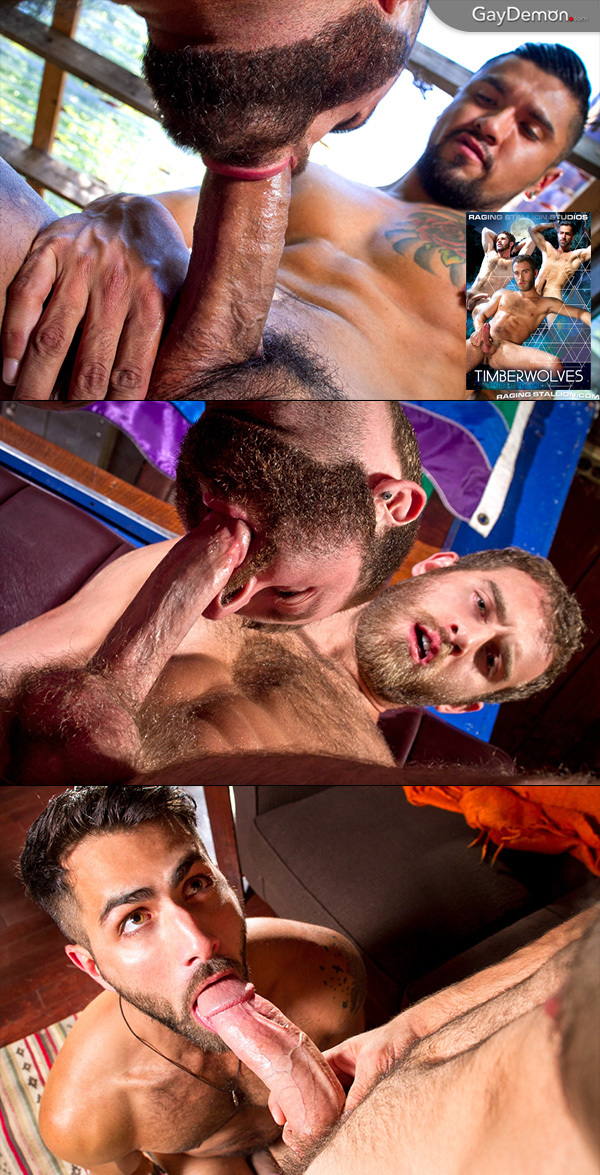 A few months back Raging Stallion Studios wowed us all with their announcement that they had signed Boomer Banks to an exclusive contract. "The world's biggest cock" all the press releases said. And a few weeks back they started rolling out the scenes from Timberwolves, which featured Boomer' first scene where he fucked Marcus Isaacs. He stretched the poor bottom's ass to unbelievable proportions, but Isaacs proves that his rear is very accommodating.
All four scenes from Timberwolves have now been released on the Raging Stallion site and it turns out Boomer Banks isn't the only hung hairy man on this DVD, although he certainly is the biggest. Tommy Defendi shoves his big cock inside sexy newcomer Adam Ramzi and Tommy douses Adam with one of the fastest-moving cumshots I've seen in a while. That spunk must have hurt when it made contact.
James Jamesson looks like a country wild man who would scare the fuck out of you if you ran into him in the woods, but he's packing a big tool, too, and gives it to Jimmy Fanz. But the shining star in all of these scenes is the last scene with handsome and hairy newcomer Aleks Buldocek fucking Shawn Wolfe. I was quite surprised to learn that Buldocek's massive dick is only 8 inches long. I guess the camera not only adds 10 pounds to its subject, but a couple of inches, too -- Buldocek's dick is impressive and you'll be kicking yourself if you miss it.