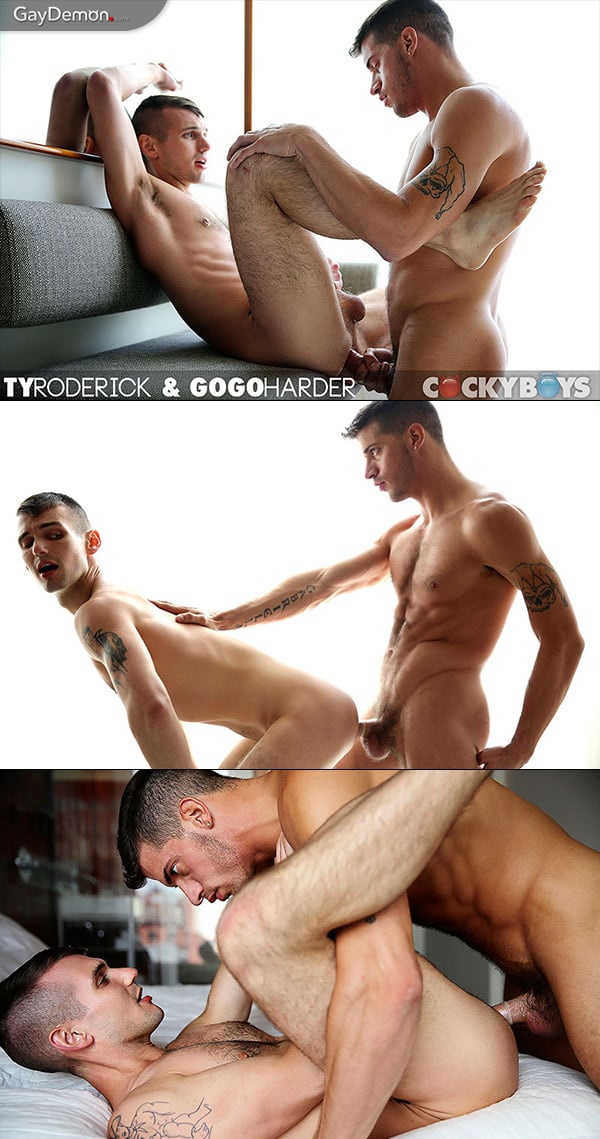 Last March cute guy GoGo Harder did his first solo for Cocky Boys and he entertained surfers with his hand stands, fire eating, and circus-like dance numbers. He's a sexy guy, adorably cute with a plump pair of kissable lips, a furry body with pierced nipples and a decent-sized dick. But really, if I want to see nearly-naked guys doing handstands, I can go see a Cirque de Soleil show.
After months of convincing, Cocky Boys finally got GoGo Harder to do a hardcore fuck scene. Too bad they couldn't get him to come up with a new porn name that wasn't, well, just silly. This scene starts off with GoGo Harder modelling his underwear collection for Ty Roderick and doing a bit of a boylesque show.
Ty Roderick humours this young stud, but eventually takes over and plants a passionate kiss on those beautiful lips. Then Ty stuffs his big dick in GoGo Harder's face and gets his meat serviced -- those lips aren't just for decoration. We also see that all of GoGo Harder's acrobatics also serve a purpose allowing him to wrap his furry legs around Roderick and gets his ass dicked hard and deep.