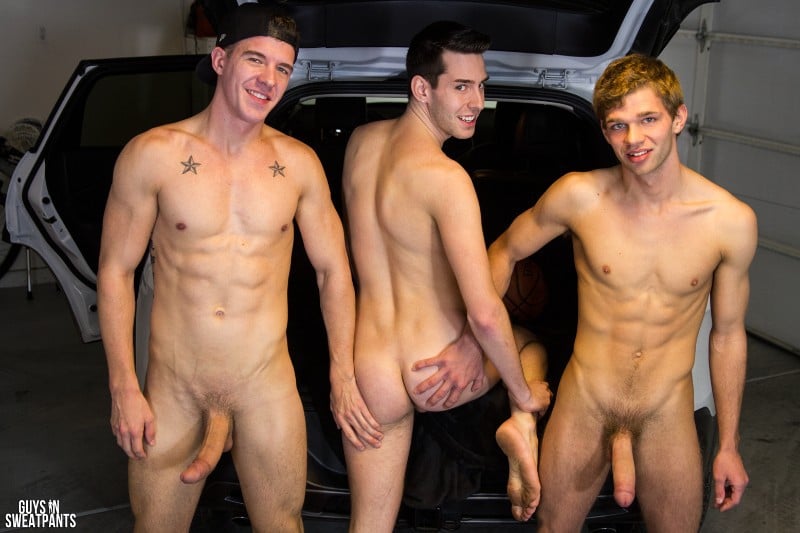 See Lance Taylor Taking 18 Inches of Cock
This latest scene from Guys in Sweatpants is subtitled 18" of cock anyone? But really, there's more than two feet of dick in this trio. Dalton Briggs and JJ Knight take turns pumping Lance Taylor after a road trip to the mountains. And Taylor makes this huge dick spit roasting look like a walk in the park.
Cocks are weird and wonderful things. Take JJ Knight's for example, the blond sexpot's 10 inches veer off to the right crowned with a flared head. Those curved ones are always a little challenging. Dalton Briggs, on the other hand, is thinner at the base, then his cock bulges thick about a third of the way down his shaft and his head pokes out of his juicy foreskin. Which one do you prefer?
In this Guys in Sweatpants threeway, the guys take a ride in the SUV, and when JJ pulls out his meaty cock, Lance leans over and sucks it in the back seat. When they arrive back at Austin Wilde's place, the trio gets started in the back of the SUV inside the garage. Taylor slurps on JJ's ten inches while Dalton slides his eight inside the lad's ass. Eight inches? Really? Briggs looks like he's packing a lot more than that. Anyway, the guys head inside to screw the daylights out of Taylor in the bedroom.
See more at Guys In Sweatpants