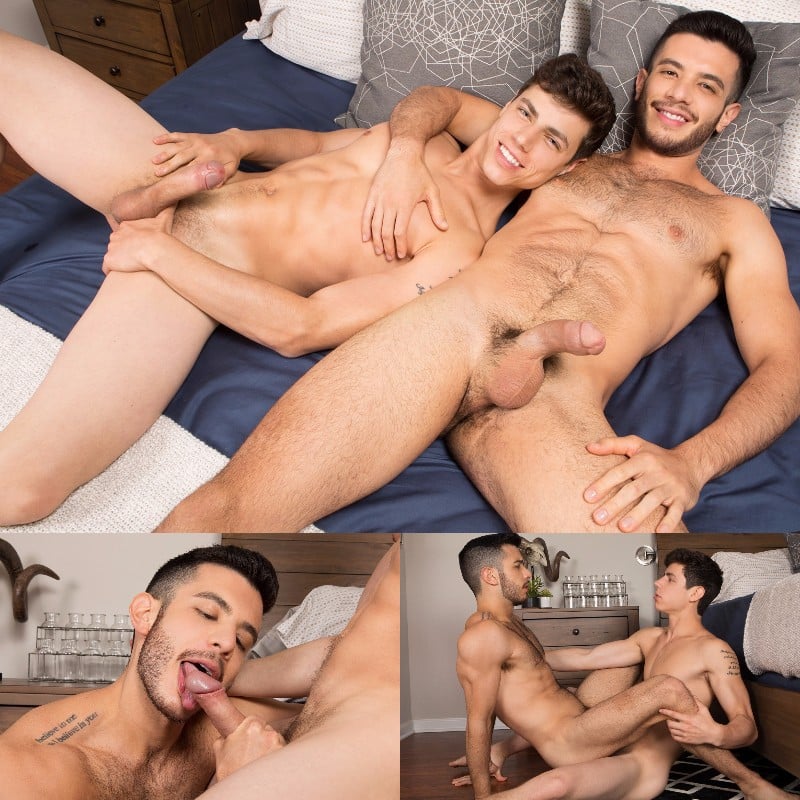 Watch All 3 Cumshots - Click Here
Pornland is obsessed with firsts -- a guy's first gay blowjob, his first time fucking, and of course, a guy's first time bottoming. But how about Kaleb? "I'm pretty excited to bust on his face, I've never done anything like that before." he says. Manny joins Kaleb in the pool with some horse play. These guys have fun chemistry with lots of taunting, laughing, and teasing talk, and they strip off their swim suits. I can tell almost instantly that this is going to be a sizzling scene -- and I wasn't wrong.
Five minutes in and foreplay is over, Kaleb grabs Manny's legs and pulls him to the edge of the bed. He slides his dick inside and with one continuous push he's balls deep. A second later, he starts pumping. 12 minutes later, Kaleb is drilling doggy style and Manny empties his nuts all over the bed. Too bad for Manny because Kaleb isn't ready to cum, he wants to fuck some more -- a lot more.
With the bed a mess, the guys fuck standing up. Kaleb's a tireless machine and after another dozen minutes of screwing, Manny blasts a second load all over a glass-top table. How can a guy cum that much the second time around? Finally, Kaleb is ready. "Get on your knees," he pants, "I'm gonna cum all on your face."