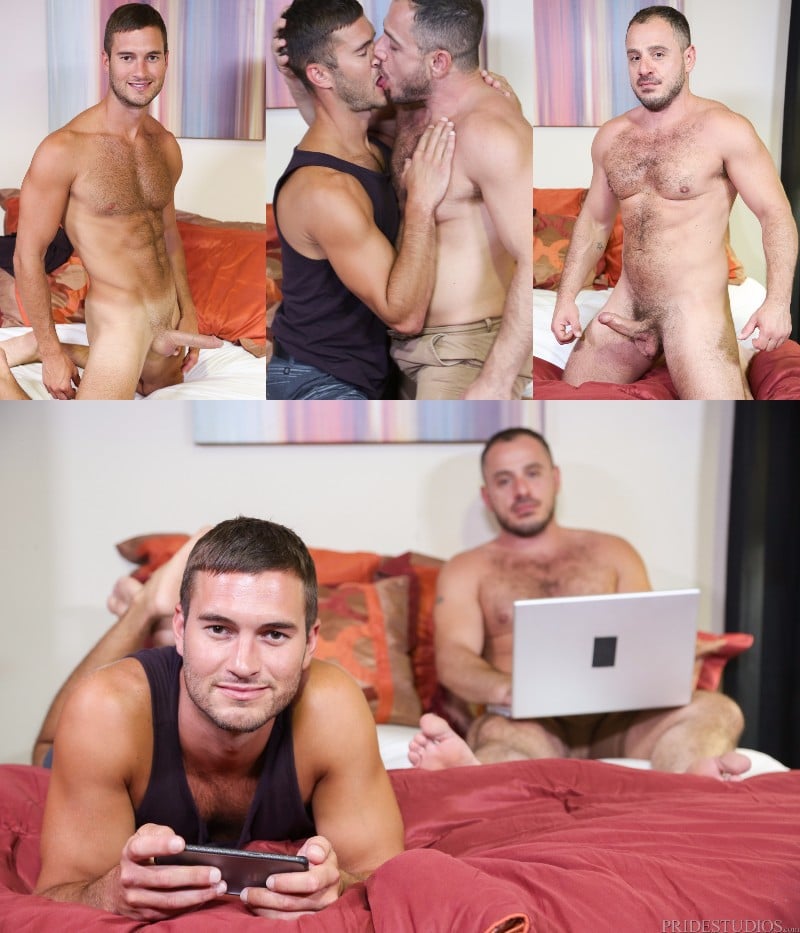 Get a 3-Day Membership at Men Over 30 - Just $1.00 - Click Here
Marc Giacomo is working on his laptop and Austin Carter is lying beside him on the bed watching porn on his cellphone. When Marc finally figures out what's going on, he asks, "You are looking at porn?" Austin says he is and his lover retorts with, "Dude, I'm sitting right here."
There's just no winning with some guys. If Austin were pestering Marc, he'd be hearing, "Babe, I've got to get this report done for work tomorrow." But instead, when Austin is occupying himself with some cellphone porn, Marc is irritated that his lover isn't jumping all over him. And before I move on what happens next in Frustrated Lover, can I just say that enjoying porn doesn't mean you don't satisfy your lover, nor does it mean he's over you, it simply means that porn turns him on, although if you're going to hold onto your hang-ups, he might be over you sooner than you'd like. So get over yourself, it's just porn.
Marc finally comes to his senses and puts the laptop aside and mounts his lover for a kiss. (Honestly, I don't know how he was getting any work done with that hot piece of ass lying beside him on the bed.) The guys rip off their clothes and Marc face fucks his lover before diving into his smooth hole with his tongue. With his boyfriend's ass good and wet, Marc plunges inside and gives him a hard fuck. And when it's all over, Marc's furry body is completely drenched in jizz.