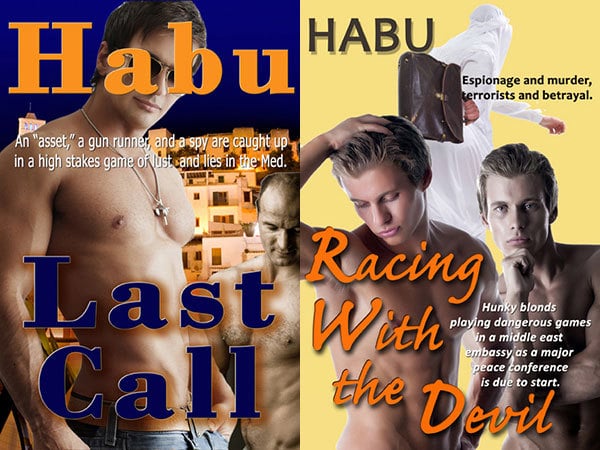 Our most prolific contributor of short stories at GayDemon is habu, who is a former intelligence official and who specializes in gay male stories on spy craft.
Readers will know though that he writes stories that cover a wide range of sexual tastes, mostly writing gay male stories but also some bi-sexual stories. And the sex in them is graphic and ranges from rough to romantic.
He won't say that the CIA has a unit that specializes in the time-old intelligence activity of trading sex for information, or that he was part of such a unit, but many of his more than 100 published e-book titles and many hundreds of short stories have intelligence operations as their plotlines and a unit called the Candy Store as the base for planning and execution.
The publisher, BarbarianSpy, reissued one of Habu's spy novellas, Last Call, on June 1st.
To mark this release, the first ten GayDemon readers who message the publisher at [email protected] may take their pick of a free e-book copy of habu's two most recent spy novella releases, Last Call or Racing With the Devil or a copy of his coauthored spy novella with Sabb in the pen name of Shabbu, Velvet Interrogation.
Last Call: A U.S. intelligence agent in Cyprus finds himself sailing around the Mediterranean and servicing a Turkish international arms smuggler in a cat and mouse game of survival. (Features rough sex, threesomes, and DP)
Racing With the Devil: Two hunky blonds play dangerous games in a U.S. embassy in this gay male novella of Middle East espionage and terrorism. (Features threesomes, light bondage, and DP)
Velvet Interrogation: Years after a U.S. diplomat has saved a young man in an extraction from Palestinian refugee camps inside Lebanon and taken the young man into his bed, the man has become a contender for leadership in the Middle East and is the subject of scrutiny by various intelligence organizations to ferret out and neutralize any embarrassments in his past. (Graphic sex and gay romance)