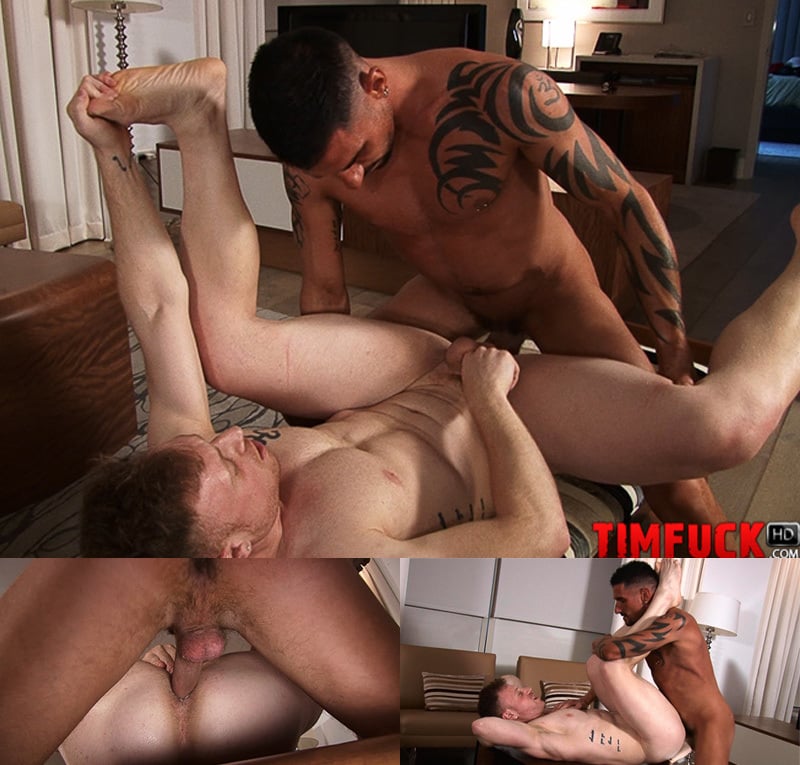 Normal I start at the beginning of a scene and work my way through to the end. But the ending of this TIM Fuck scene had me chuckling funny, so I'm going to start there. Erik Grant has been pounding the hell out of Saxon West for a long while. He even stops to ask Saxon if he's okay and does he like it. "Yeah, show me what you've got," Saxon grunts. So Erik drills like he's trying to make Saxon's innie an outie, then finally barks, "Uh ... I'm gonna cum." No symphony of noise, just one singular warning. After he's done spunking in Saxon's ass, Erik flops his head down on Saxon's chest. He's totally spent. And Saxon says, "Good job." Ha!
I'm normally not one who gushes about furniture and fabric, and such. I have very little design sense. My partner is always showing me one magazine or another and talking about how perfect the lines are in this, that, or the other thing. I humour him and feign interest, but inside my head I'm really thinking about what I'm going to have for lunch, or the giant cock I was in the middle of admiring when he burst into my den with said magazine. But this TIM Fuck scene had me saying, "What's that?" I really said it out loud, too. And I'm referring to the bench thingee that Saxon and Erik are fucking on. See, I don't even know what the "thingee" is called. I'm hopeless.
But I absolutely love this bench. Not only is it a perfect fucking height, but it's wide enough so that Erik can easily straddle it while fucking Saxon. It's nicely padded so that Saxon is comfortable, and it has a gentle slope so he can lie back and gaze up at Erik and encourage him with an "oh yeah" or "harder, baby." There are no sides or arms to contend with, so Saxon can hold his own legs leaving Erik to drill him hands-free. It's stylish too, so you could keep it in your living room and no one would know that it's really your once-a-week fucking throne (more often if you and your partner haven't been together for 20 years). Anyone know what this "thingee" is called? You'll probably have to watch the preview video to get a better look at it, but don't forget to come back and let me know down in the comments.