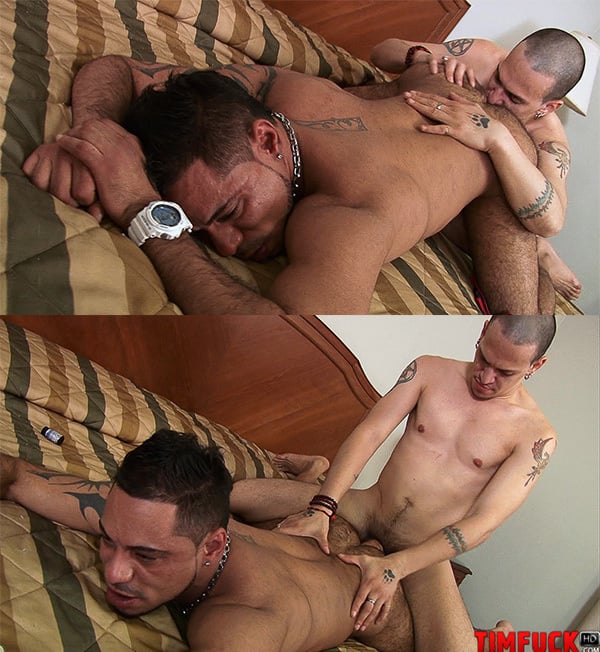 It's funny how we're often attracted to characteristics in men that we ourselves don't possess. Look at the way Dimitri Santiago has his face buried in Joey Sebastian's very furry ass. When this TIM Fuck video opens, Dimitri is holding Joey's hairy cheeks, admiring not only the feel of the hair, but the roundness and firmness of Joey's butt. Dimitri himself has a smooth butt and it's much smaller in size. Dimitri wraps his arms around Joey's waist and chows down like his tongue hasn't been in a hole for months.
When Dimitri has had his fill, he mounts Joey and pushes his dick inside. It's not as hard as it should be, but he's impatient to feel his cock inside this beefy ass. He knows that the warmth of Joey's juicy hole will stiffen him up. He wraps his legs across Joey's cheeks and watches his dick slipping between those beefy mounds. "Nice," he whispers.
Then Dimitri rams with quick, hard thrusts, his own ass jiggles as he smashes into Joey's hole. He alternates between slow pumps and quick pokes. Then he lies on top of Dimitri and whispers in his ear, "Every time my dick jumps, I'm precumming in your ass."