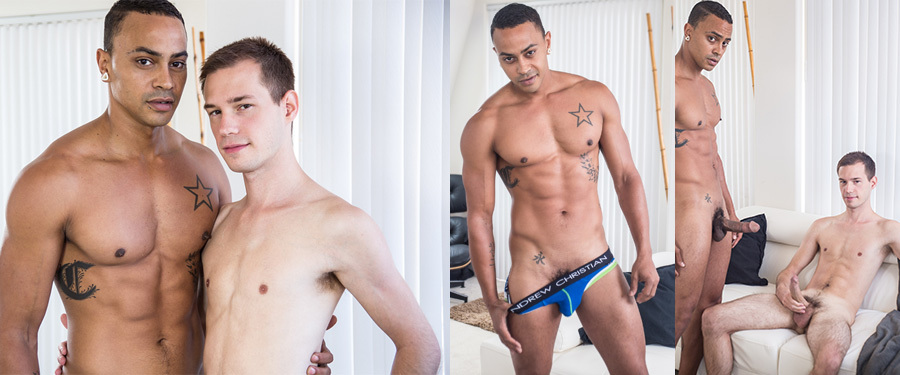 When I first saw Cameron Jakob's monster cock I texted my editor: "Jesus H Christ ... Did you see the cock on Cameron at Guys in Sweatpants?" And seconds later: "Yeah, it's huge ... I want it!" He wants it? I want it. We all want it. And since it's not the kind of cock you want to share with your best friend, your lover, or your editor, I texted back, "I'd fight you for it." My editor's a nice guy and says, "There's more than enough there to go round." Come inside and see if you agree.
The big news with this scene is supposed to be Dillon Hays, the hung stud hasn't filmed with Guys in Sweatpants for a year and a half. He's back to skewer this lad with his own big dick, which doesn't look all that big beside Cameron's long tool, but it is. In the opening chat, Austin Wilde asks Cameron, "What's the biggest cock you've ever had?" Cameron says, "Yours, I think." Way to work the owner of a porn site who can set you up with lots of big cocks.
The guys suck each other, then Dillon fucks Cameron, but I'm going to jump to the end because it was so damned hot. Dillon sits on the couch and Cameron rides him in reverse so we get a perfect view of his thick bone sliding in Cameron's hole. Dillon holds Cameron by his thighs and bounces him on his tool, so all Cameron has to do is stroke his own giant cock. Cameron starts panting like he's going to cum any second and Dillon is thrusting up into him and driving him crazy. Cameron keeps on with the gonna-cum symphony and Dillon has this "please, please, please fucking cum" look on his face. Finally, he can't wait. He pulls out and nuts big, then he slides back inside Cameron's ass and lets the lad ride until he finally blows all over himself.
See more at Guys In Sweatpants