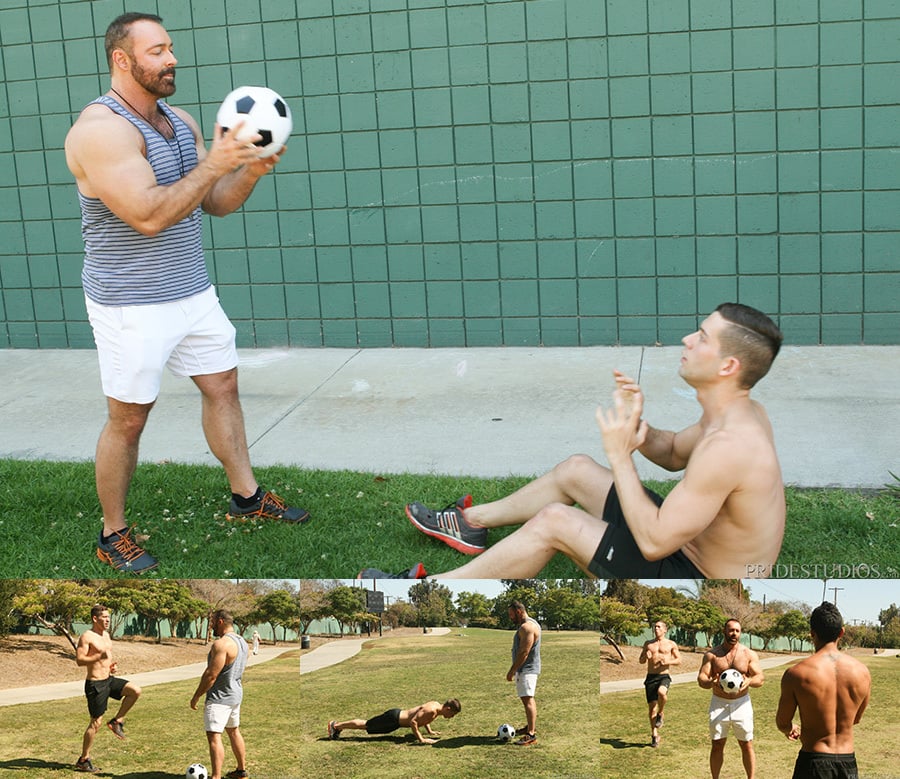 Brad Kalvo was Kyle Kash's soccer coach back in high school and Kash had the hots for his coach. Who wouldn't get off thinking about being manhandled by those big giant arms. Kalvo rebuffed the lad's advances and told him to come back and see him in a couple of years when he was legal. So, it's two years later and in Dylan Lucas' Cum on Coach, Kyle drops by the coach's office to see if he can make his fantasy come true.
In Kalvo's office, Kyle and the coach catch up and Kyle reminds him of his offer from a couple of years back. "I'd love for you pound my ass," Kyle says boldly. After a bit of smooching, Kalvo hands the lad his keys, "Why don't you come by my apartment in a couple of hours." When the coach gets home, Kyle is sitting on his couch flipping through a magazine. "I've been waiting all afternoon to see you," Kalvo says. He wraps his huge arms around the boy and they neck.
Kalvo pulls off his shirt and Kyle rubs his hands all over the coach's muscular, hairy chest. He can't believe this is finally happening. He drops to his knees and pulls Kalvo's shorts down his legs and gulps the coach's semi-hard dick. Kyle's a good cocksucker, he licks, gulps, and deep throats Kalvo's dick and gets it rock hard for his ass. Then Kyle gets what he's been dreaming about for the past couple of years -- the coach top on top of him and drilling his tight hole.