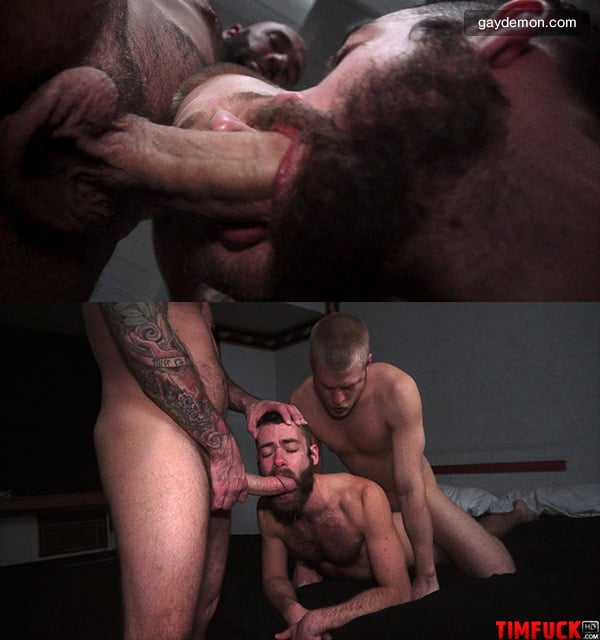 I had to plaster a four-day load all over my glass top desk before I could settle down and write this post. That's what happens when a site like TIM Fuck throws three of your favourite studs in bed together. A couple of weeks ago bald daddy Drew Sebastian shoved his niner up Logan Stevens' hole and that was a match made in porn heaven -- I still haven't stopped pounding my bone to that one.
This week Seth Fisher gets his fantasy rocked when he bottoms for both Stevens and Sebastian. OMG! This one's going to be sitting in my spank bank for a while. Honestly, my editor is lucky this post even happened. I could have watched these two videos back to back all day long until my hand went numb. Fisher spends a great deal of this scene lying across the bed on his belly while one man pumps his hole and the other fucks his throat.
Finally, Seth gets off his belly and with Drew and Logan sitting back against the headboard, this hungry bottom sits on one huge dick, then the other. Fisher himself is no slouch in the dick department. He's every bit as big as his two scene partners. And whether Seth is using his mouth or ass, he sure knows how to take care of huge cock. Anyway, I've got to get some more "work" done or my editor is going to chew me a new one. But with this scene sitting on my hard drive today, I think that's inevitable.