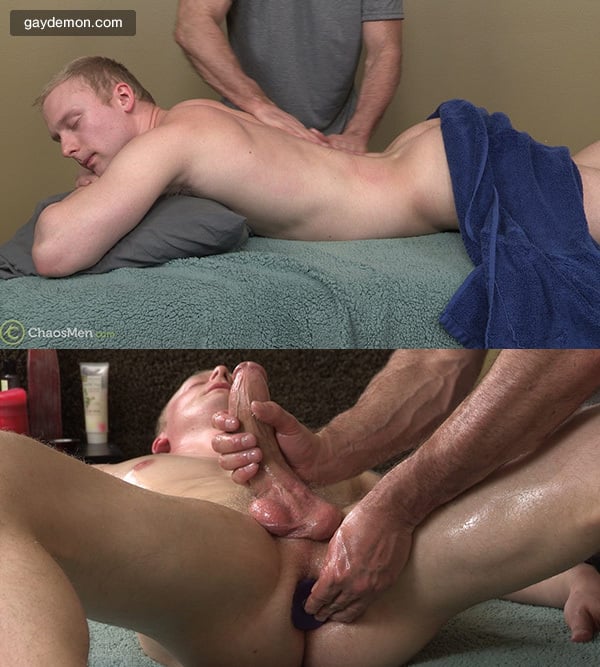 Graham is a 22-year-old, blond guy and he's a long-time Chaos Men fan and finally decided to take the porn plunge. He did his first jack-off scene, then a servicing video. Normally the new guys get blown by one of the alumni, sometimes bound and blindfolded, but Graham and Ransom suck each other. And once they get going, Randsom either has his thumb or a dildo up Graham's ass for most of the scene.
So here's the thing: Graham's stats say that his cock is 6.5 inches long and in his opening-scene bio Graham says that he's versatile, but most guys can't handle the size of his cock, so he usually ends up bottoming. In his third scene, which is a massage session, Graham get his hole fingered and fucked with a vibrator again.
Dude, own it. You're a bottom. There's nothing wrong with enjoying having things shoved up your ass -- not glass bottles though, that's dangerous -- so embrace your bottomness. Be proud. Don't make up lame excuses like guys can't handle the size of your cock. You're not Boomer Banks for goodness sake unless Chaos Men measured wrong.
So Graham lies on the table and gets his massage from the site owner himself. And it's no long before the blond is on all fours with his ass in the air ready for some horny butt-hole play. And he gets it.