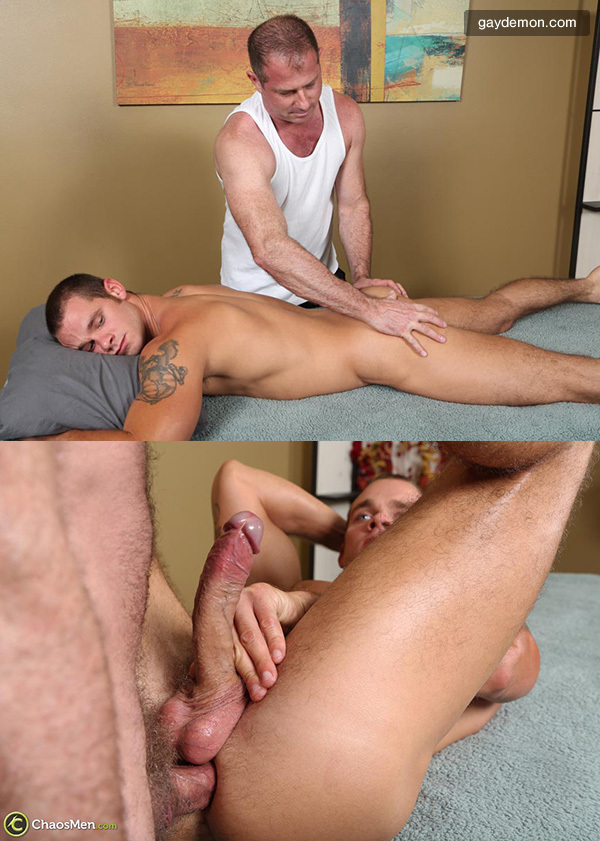 Running a gay porn site isn't all fun and games, sometimes it's a giant pain in the butt, and not in the good way. But this scene between Cooper and Chaos Men owner Bryan Ockert was a little bit of both. You see, Bryan and Cooper were waiting at the airport for Cooper's scene partner to arrive. And he didn't. Lots of guys are turned on by the idea of doing porn but chicken out when it comes to time to pull it out for the camera. When Bryan said he was going to call one of the other regular performers to jump in, Cooper suggested that Bryan do the scene instead.
As Bryan tells it, he and Cooper have a bit of a thing going off camera. Cooper has a longtime girlfriend, but he's got a fondness for Bryan. Maybe it's a daddy thing, maybe it's a marine's crush on his drill sergeant, maybe it's a bromance. And while it's not full-on fucking on the office floor type of thing, Bryan and Cooper flirt and tease, and they've talked about doing a scene together one day. So that day has come.
And it turned out to be a good thing, not only for the guys, but for us. Cooper has gotten fucked before, he's even jacked himself off with dick in his butt. But Bryan wanted to see if he could really make Cooper cum. So after the massage Bryan climbs on top of Cooper and gave him a slow passionate fuck, driving his dick in deep and rubbing Cooper's prostate with his hard-on.
When Cooper rolls over, he's bone hard and Bryan continues fucking him, even playing with Cooper's dick. And a couple of times Cooper knocks Bryan's hand away. Mission accomplished. He's close, but doesn't want to cum. This straight stud is really getting off having a cock in his ass.