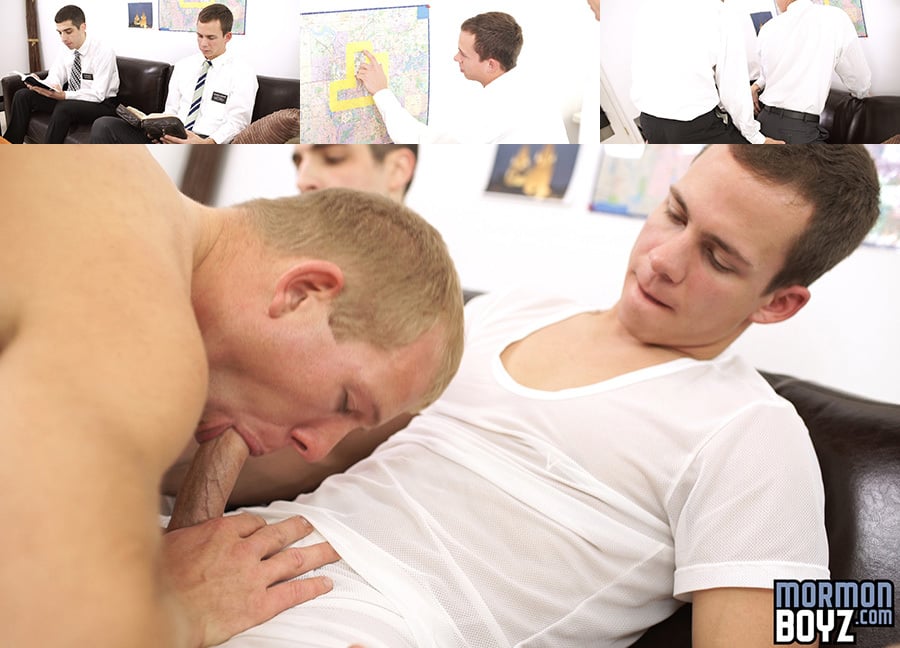 Brother Johnson is the new mission ward over at Mormon Boyz and he's called a correlation meeting with two of his missionaries to plan their missionary work for the upcoming week. Elders Ricci and Lindsay sit quietly on the couch in the office reading their bibles and waiting for the leader to arrive. But these lads have no idea they have met Brother Johnson before.
The last time we checked in on Elders Ricci and Lindsay they were having it off stripping and groping each other behind some curtains in the temple. Brother Johnson secretively watched them, then he joined them. Again in this new scene, he catches these guys off guard when he presents himself as the leader for their correlation meeting. Elder Lindsay kneels on the couch to point out the territory they've targeted on a map on the wall. Johnson slides his hand between Lindsay's legs. "Brother Johnson, we're going to get in trouble," Elder Lindsay says.
Brother Johnson orders the lads to sit on the couch, then he begins stripping off their clothes until their down to their temple garments. He grabs their boners through the fabric: "You boys have a couple of nice cocks." And after sucking those two nice cocks, Brother Johnson fucks Lindsay while Ricci stuffs his buddy's throat. And this time around, Brother Johnson and Elder Ricci swap back and forth, each taking a turn in his mouth and ass until their ready to blow. Brother Johnson is hung, but he's nothing compared to Elder Ricci. It's a good thing Johnson went first.