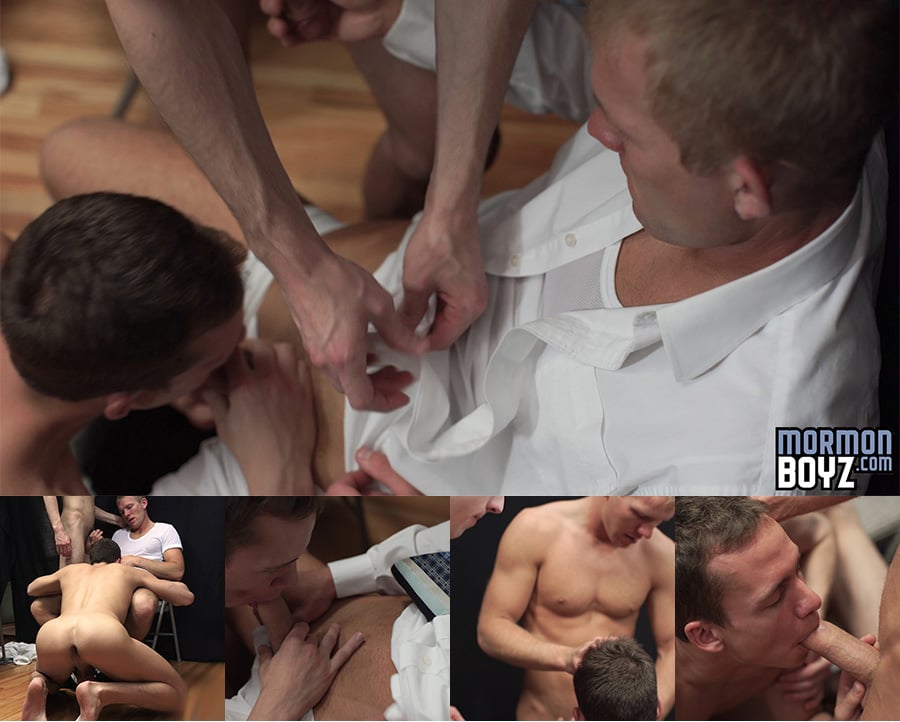 Bad little Mormon Boyz need to be taught the error or their ways, and they need to be punished. When Brother Johnson catches two missionaries wrapped in each other's arms and groping for dick, the ward mission leader knows what he has to do. But before he intervenes, Brother Johnson silently watches from behind the curtain. He waits until these horny lads slip off their temple garments and he gets a look at their stiff cocks. Then finally, he surprises the boys when he emerges from behind the curtain.
God knows what happened to Brother Johnson's pants. The lads are shocked to see him standing there in his shirt and underwear. He sits in a chair and Elder Ricci unbuttons his shirt while Elder Lindsay drops to his knees and releases the Brother's big dick from his shorts. He gulps Johnson's big, beautiful dick, then Johnson stands and throat fucks Lindsay while his buddy rims his ass. "Why don't you boys suck each other," Brother Johnson suggests. He sits back and watches Lindsay crawl on top of Ricci in a 69 sucking session. But it doesn't last long, Johnson can't stand the sight of Lindsay's ass perched in the air -- such a hot little butt needs to be fucked.
Ricci sucks Lindsay's cock and watches the Brother slide his huge, veiny cock in his buddy's ass. Lindsay yelps as Johnson pushes all the way inside. The boy's ass is tight. But Johnson fucks his hole open and the lad keeps sucking Ricci's hard-on. Johnson lies back and orders Lindsay to sit on his cock and Ricci watches from behind. After pleasuring the Brother's cock, Ricci and Lindsay get between his legs and suck him off, fighting for every drop of cum that explodes out of his dick.