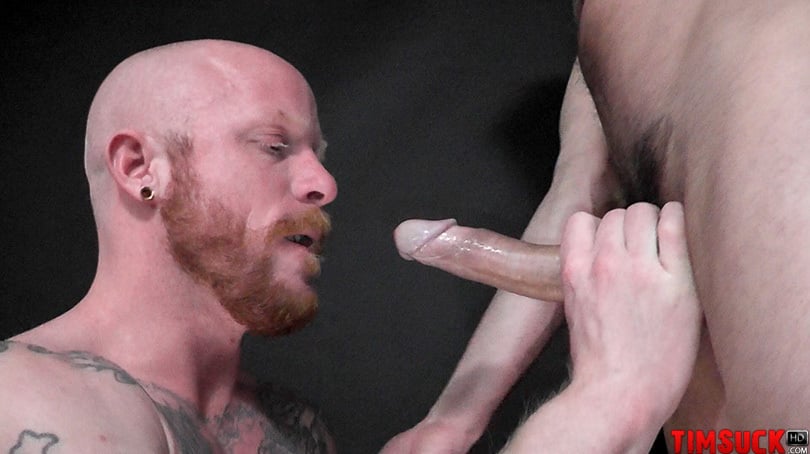 A bald ginger down on his knees sucking and a bearded stud leaning against a wall and getting blown, this TIM Suck scene with Brock Rustin and Dean Brody gives blowjob fans the perfect storm of head videos. A couple of minutes into this session I wanted to pop.
Dean Brody is one of those porn hunks who I see from time to time and I want to do a post about him, but then I get buried under an avalanche of other scenes and forget about him. It's not that he's so easily forgettable, he's incredibly handsome and wears a dark beard, and he swings the kind of huge dick that would have any cock hound falling to his knees -- or wanting to. No, Dean Brody is anything but forgettable, and yet I keep passing him by. I think I need a better day planner to keep track of these things or a big dose of ginkgo biloba to improve my memory.
Brock Rustin is one of my favourite porn studs. I've watched him a lot and I'm particularly fond of his bottom scenes. And while I've seen him suck dick plenty of times, this TIM Suck scene is insanely exciting because I so very much want to be where he is and doing what he's doing. But even more, seeing how well Rustin services Brody's horse cock is thrilling -- inspiring, too -- and when Brody sneaks a peek at the camera and smirks, I'm done. I have to pop. And now I'm hooked, I need more Brody.