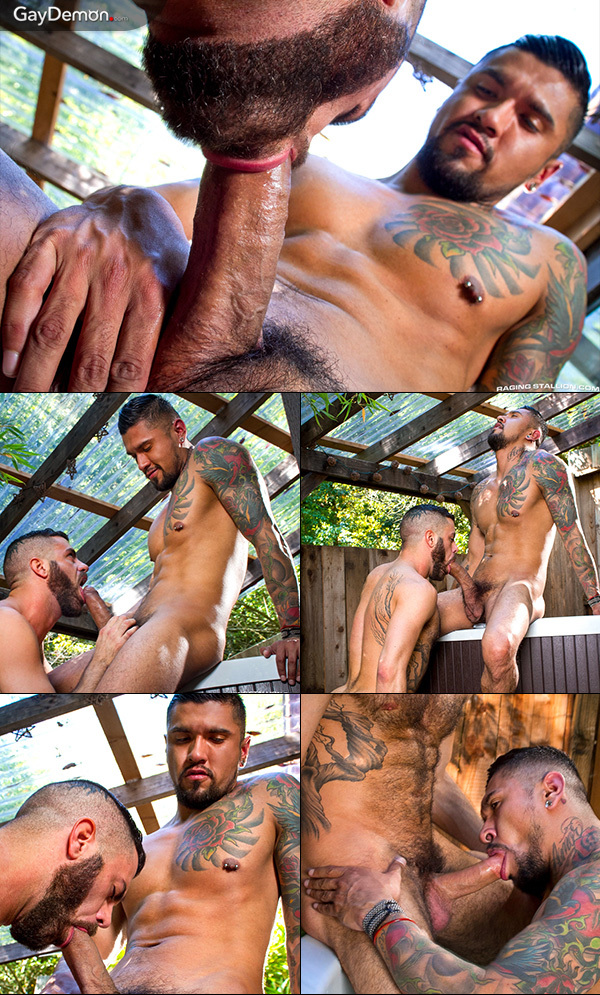 A few months back Raging Stallion Studios announced that they had signed Boomer Banks and his 10+ inches to an exclusive contract, and ever since we've been waiting to see what lucky bottom would break in that monster cock, and more importantly, could he handle it?
Last week Raging Stallion finally released the first scene of Timberwolves on its site and Marcus Isaacs is the bottom who gets to show us how big Boomer's meat really is. I was really interested to see if Isaacs could stuff this huge dick down his throat. I get frustrated with watching cocksuckers bobbing on the top couple of inches of an impressive cock. And indeed that's exactly what Marcus does as he first starts using his mouth on Boomer's heavy-hanging, uncut dick. But then Marcus starts inching his mouth lower, and in one impressive swoop he swallows the whole thing. He gags, but that doesn't deter him, he's back deep throating Boomer's 10 inches over and over.
When it comes time to fuck Boomer's dick, Marcus ambitiously sits on it -- not my first choice for getting my ass used to such a big tool. But it's not long before this bottom is bouncing wildly on Boommer's hard-on. When Boomer takes over, he lies Marcus back and gives him a brutal fucking driving his long pole at a frenzied pace. You can tell by the painful look on Marcus' face that this is a chore, but he's not asking Boomer to stop. And Boomer doesn't stop until Marcus shoots a blast of spunk all over himself. Then the top kneels over Isaac's face and unloads in the cocksucker's mouth.