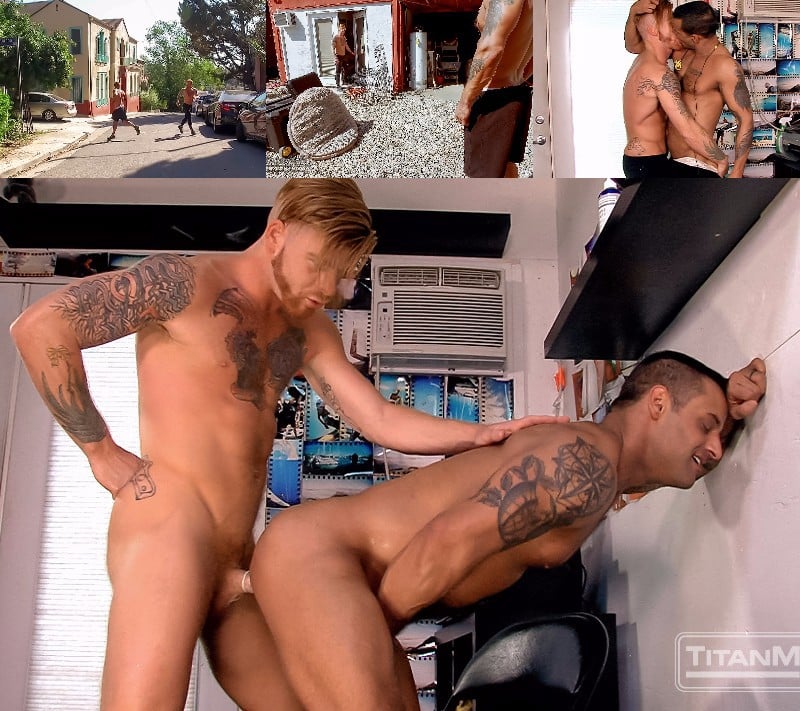 Save 25% on Your Titan Men Membership - Click Here
David Benjamin is out for a jog in Titan Men's latest DVD called Silverlake when he spots ginger stud Bennett Anthony standing at the bottom of the famous Micheltorena Stairs. Bennett leads David on a jogging game of cat and mouse meandering through the streets and narrow lane ways. When they finally arrive at Bennett's apartment, he stands in the doorway and waves David in.
I'm officially over the undercut and all its variations. It was a trendy and cool haircut at first, but now as men try to outdo each other in all kinds of weird and whacky ways, it's reached comical heights. Bennett Anthony's is one of the more ghastly versions I've seen lately. Okay folks, it's official, I'm either old or I've watched too much porn: a porn blogger should be talking about the hot guys or the hot sex not weird hair styles. But these days, Pornland seems like it's more about the Look At Me parade than sex. Enough with the hair, the tattoos, the underwear, the cock rings, and the body jewelry. Just fuck already -- and turn me on.
Okay, I guess someone pissed in my Corn Flakes this morning because the sex between these two is pretty hot. "I love gingers," pants David as he buries his face in Bennet's hairy ass. And after a round of cock sucking, Bennett bends David over a chair and drills his hole. David flips over and explodes all over his six-pack with Bennett buried deep in his ass, then Bennett straddles his bottom and fills his mouth with jizz.