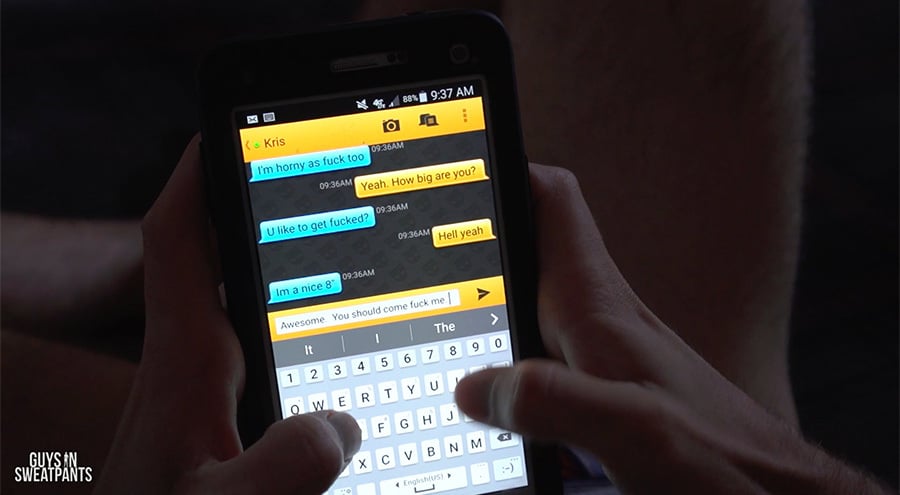 Sometimes it's what we don't see that makes us hornier, isn't it? Like with this scene called Bareback Grindr Hookup from Guys in Sweatpants. It features Cameron Jakob hunting for dick on his cellphone. Kris hits him up, and it's not long before he texts, "U like to get fucked?" And that's exactly what Kris likes" "Yeah. How big are you?" Kris texts back. "Im a nice 8." Bing, bam, boom. Cameron sends his location and Kris is on his way. It's a hot fuck, but the thing that'll drive you nuts is that we never see his face. But don't let that stop you from coming inside and seeing his eight inches.
I don't have Grindr, Scruff, or Growlr. Hookup apps are the one area in which I lag behind. I prefer old-style cruising where you see someone on the street, your eyes meet, and then you each catch the other doing the turn-around-for-a-rear-view look. Maybe you stop and chat. Maybe you turn around and follow him down the street until he leads you back to his place. It's a lot more fun and so much more of a turn-on, but not always as reliable as a Grindr message like "You should come over and fuck me." Is it really that easy? Tell me, clue me in, should I get one of these apps?
Kris does show up a few minutes later, and the door is unlocked as Cameron said it would be, so he just lets himself in and finds his way to the bedroom. They barely exchange greetings before Cameron is grabbing the waistband of Kris' track pants and releasing those eight inches he talked about. And they're real inches, not Internet inches. Cameron gulps his Grindr buddy's cock, but then Cameron pushes him back on the bed. He said he didn't have a lot of time, he has to get to work, so he needs to get on with his fuck. He crawls on top of Cameron and slides inside.
See more at Guys In Sweatpants