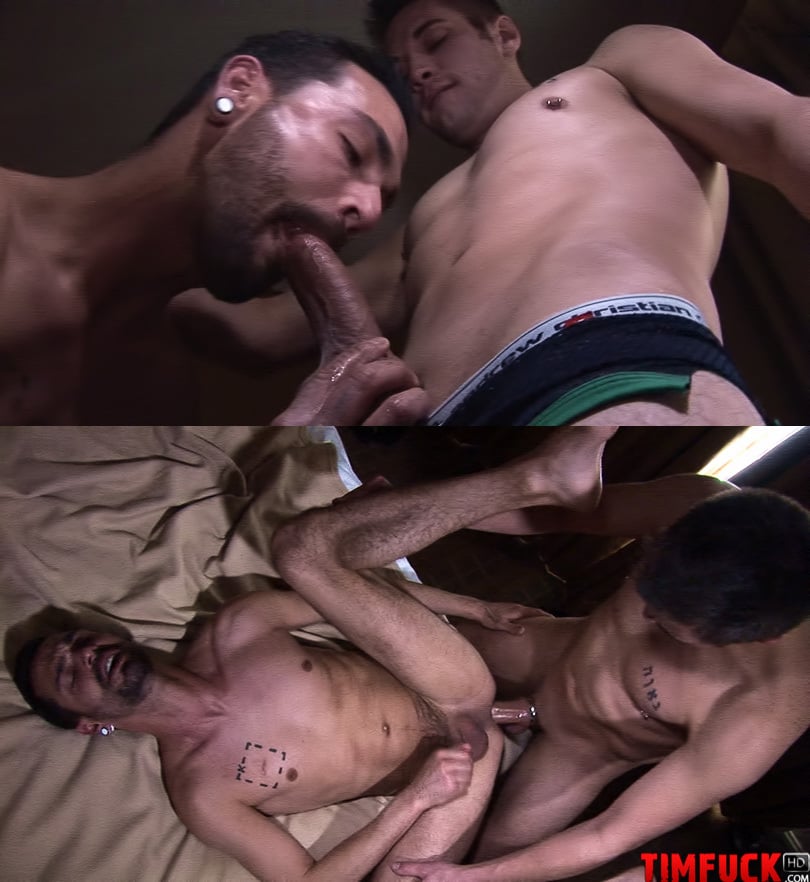 Jack Hammer was scheduled to do a solo jack-off scene, but things changed when he arrived at the studio with a fuck buddy. It's seems Jack's buddy from out of town showed up unexpectedly for an impromptu fuck session. So Jack brought him along and they agreed to let TIM Fuck film their horny session on the condition that TIM not reveal his name. Funny that he's worried about concealing his name, which in Pornland is almost always made up, but he had no problem keeping his pretty face front and center.
I didn't know Jack Hammer before I got this video in my assignment queue, but I thought that Jack Hammer was the perfect porn name, both first and last name a nice play on words and cleverly strung together. In a sea of Ryans and Dylans and Wolfs and Wilds (both with and without the "e"), a smart and creative porn name is a good start to a guy's career. But if you pick Jack Hammer as your porn moniker shouldn't you be a top? He's not, at least not in this scene. I tried googling him to see if perhaps this was the one time that Jack Hammer bottomed, but all I could find were scenes from a straight black hunk called Jack Hammer who did a lot of scenes for the people who bring us Bound Gods, except he is fucking chicks in the dungeon with his 10-inch cock, although he did get tied up and used by one dominatrix at Divine Bitches.
In this TIM Fuck scene, Jack Hammer is the bottom. When the video begins he's sitting naked on the bed and Anonymous has his dirty construction boot on the bed between Jack's legs. Jack unlaces it and pulls it off, then Anonymous drops his camouflage pants to the floor and his big cock is already pretty hard. Jack gulps it balls deep on the first swallow. Anonymous pushes jack back on the bed, eats his hole until it's wet, then mounts his buddy and slides in. Anonymous likes choke fucking and he alternates between good solid pumping and jack hammering. Hmmm ... maybe they should swap names. Anonymous dumps his load in Jack's well-fucked hole, then he slurps up some of his cum and kisses his fuck buddy. I think Anonymous could have a future in porn, maybe he should pick himself a name.