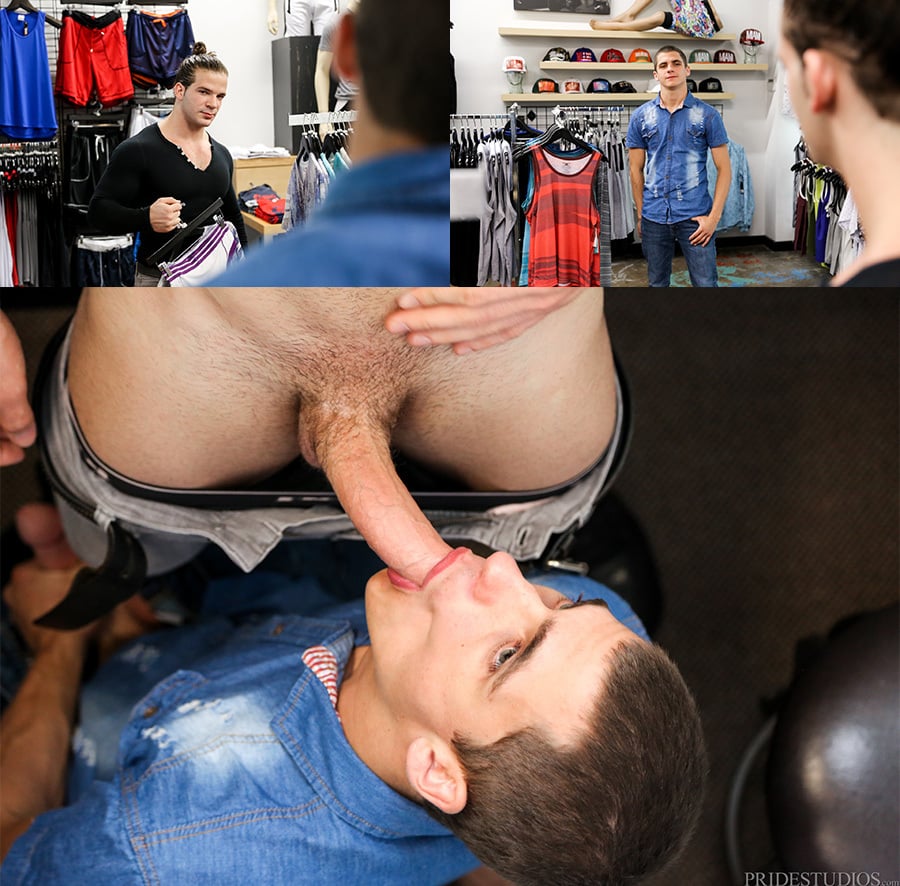 Kory Houston is doing a bit of shopping when he notices hunky Angel Rock among the racks of clothes and the cruise is on. In Pride Studios' Public Sex Confessionals, things start off with Kory sitting on his therapist's couch talking about his proclivity for having sex in unusual and dangerous places. So it's no surprise when Rock gives Houston a head bob and they get dirty in one of the change rooms. Down on his knees, Kory gets face fucked and his noisy gulping and gagging brings the store clerk inquiring if everything's okay. Come inside and see how far this horny pair goes.
I don't know where Angel Rock has been, I can't keep track of all retiring and comeback announcements, but I haven't seen him in a video for a while and his Twitter account has been shut down. He was always one of my faves, even all the way back when he got started on College Dudes 24/7, which is now just College Dudes. He's a good-looking guy and his huge cock always got me thinking about being down on my knees. So I was thrilled to see him back in this Pride Studios' video. But then I saw it -- the man bun. Geezuz. Talk about a boner killer. The man bun is an unfortunate hair style that only "stylists" think is sexy, you know, like jeans that don't fit a guy in the ass, platinum blond dye jobs, wearing a suit that's really two sizes too small, or faux hawks. I keep hoping out loud that the man bun will go away quickly, but it keeps popping up.
After their brush with discovery, Kory and Angel pull up their pants and leave the change room. They head into a back store room and Angel bends Kory over a table and gives him the business. It's a hot fuck, and while I'm getting excited about the notion of someone catching this pair, I can't seem to stop staring at the knot of hair bobbing on top of Angel's head. Kory lies back on the desk and Angel drills him hard. He hand gags Kory to try and keep the noise down and the bottom finally cums on his belly, then Angel unloads on Kory's thigh. So how about? Is Angel Rock's man bun too distracting? Or were you too busy looking at other things to notice?