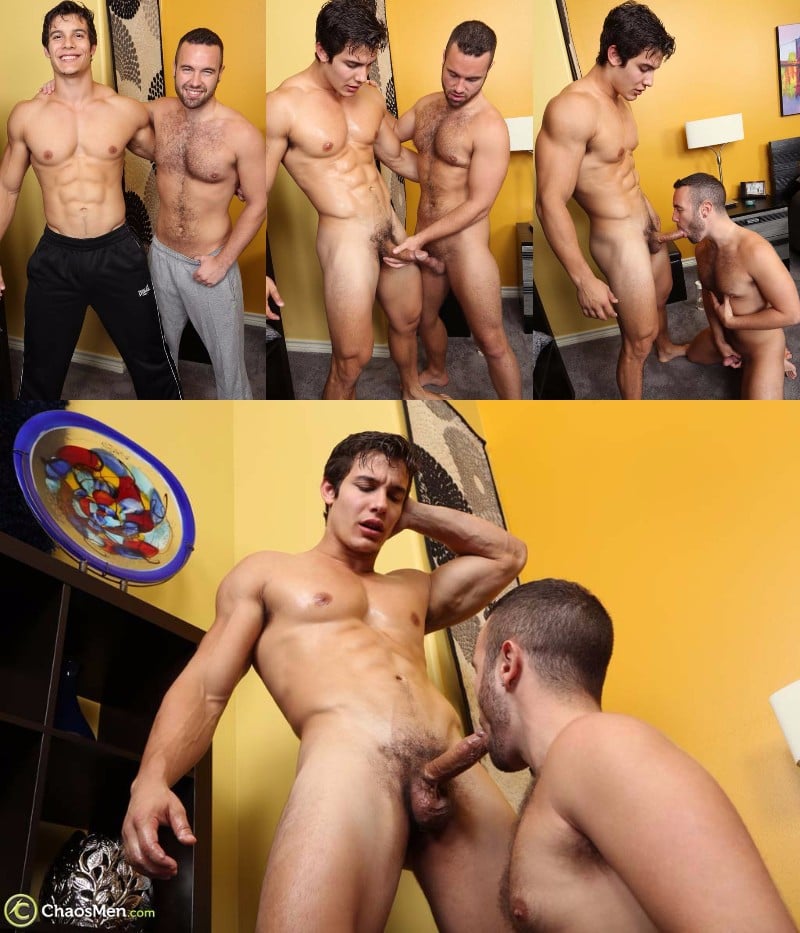 Get a $1.00 Trial at Chaos Men - Click Here
Adam Cub is a ripped straight dude who made his first JO video on Chaos Men back at the beginning of February. Two weeks later, he got his first on-camera blowjob from a guy, and then, site owner Bryan Ockert finally convinced Adam to slide his big dick in a guy's ass, and consummate service boy Noah Riley was only to happy to fall on the sword, as it were.
Do you like Adam Cub? He's certainly cute enough and he's got a gorgeous body, but I find him just a little too perfect and polished. I don't know, maybe some face scruff or a bit of chest hair would liven him up for me. Although I have to say that I love his big, brown nipples and that big nob atop his eight inches would be fun to swirl in my mouth. Okay, I admit it, if I were on my knees and Adam Cub walked by, I'd take a taste of his delicious cock.
"Adam slides his cock around Noah's butt-cheeks, and you can really see how hung Adam is. I was not sure it was going to fit in our little Noah Riley," says the write-up at Chaos Men. Okay, let's not get carried away here, Adam Cub is only eight inches, in Gayville that's average, isn't it? I got really hard seeing Adam's dark bush pushing against Noah's ass -- gosh, I do hope straight guys stop shaving their pubes soon -- and Adam is a spanker too. When he done fucking and his load is smear all over Noah's rosebud, Noah's beefy ass cheeks are bright red from all the slapping. Yeehaw!