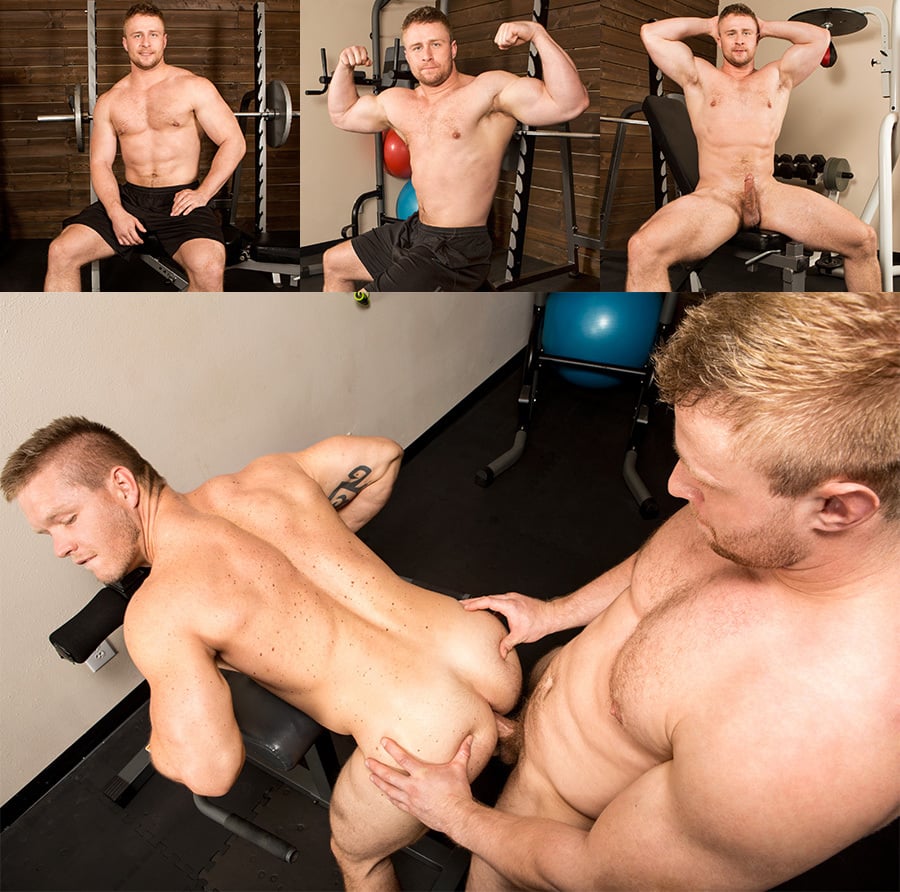 It's been two years since we've seen Abe fucking ass on Sean Cody. He returns this week to fuck muscle stud Rusty. And Abe sure has put the last two years to good use, he's beefed up enormously. Back in 2013, he was clean cut with a solid, ripped body, but now, he's bearded, he's let his chest hair grow in, and his rolling shoulders and massive guns are awesome. Somebody's been working out hard.
To be honest, I don't remember Abe from his 2013 stint at Sean Cody. Back then he was too wholesome looking to catch my eye, a little too collegiate; besides blond men rarely peek my interest. But if you like blonds, Abe topped in six scenes and fucked some pretty hot guys. Funny how some face scruff and a bit of chest hair can make a guy look so much more interesting. Abe is a funny guy, too. When the producer says something about this being a beefcake pairing, Abe says completely stone faced, "Honestly, I don't even know," and without even cracking a smile he adds, "I don't even like to work out."
When Sean Cody said the Abe Returns to Pound Rusty, they sure weren't lying. At 6'3", he's a lot taller than Rusty and outweighs him too. He bends Rusty over the workout bench in the gym and drills him hard. But the scene stealer sees Abe reclining on a bench watching as Rusty backs onto his dick and fucks it with deep, hard thrusts. "Oh yea, fuck my dick," he groans.