Male Stars
Reviewed by GayDemon on 23 Feb 2012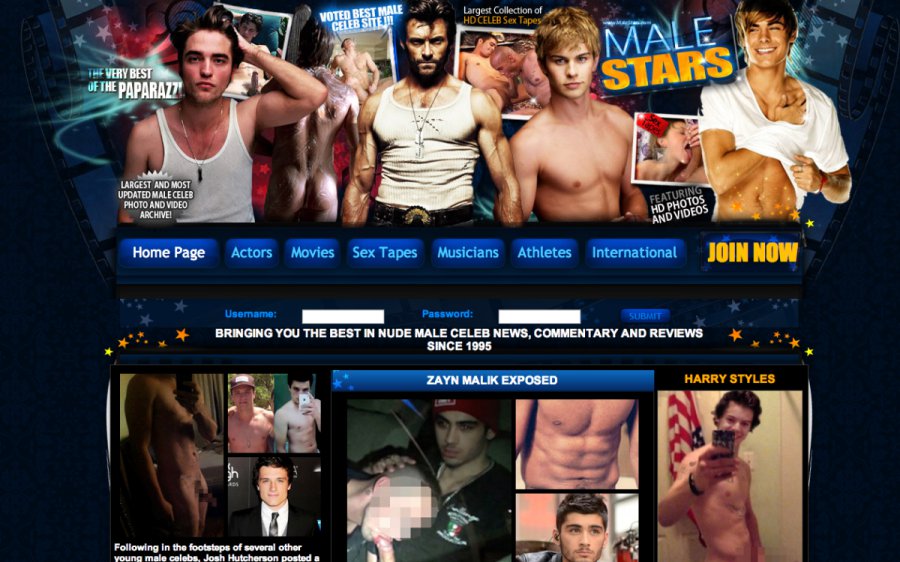 Male Stars offers guys you've seen starring in movies, playing professional sports, live on stage or on TV - only here they're naked or at least shirtless and exposed. The site says they have footage of Taylor Lautner jerking off, Ryan Gosling pissing and there's a pic of rugby star Ben Cohen's cock showing through his wet underwear. There's also a shot of Johnny Depp's ass, Ashton Kutcher on the toilet and near the top of the page is action star Jason Statham nude, tattooed and showing his cock. And in case you've been under a rock, the site offers pics of Daniel Radcliffe (Harry Potter) nude on stage showing his uncut cock.
For those who get a thrill out of watching celebrity sex tapes, Male Stars offers some juicy ones. Okay, some are straight, but even so, this is one of the places to watch Paris Hilton suck Rick Salomon's cock. You can also see bad boy Bam Margera getting it on, Alexander Skarsgard in a "graphic" gay scene, and musician Pete Wentz stroking his cock in a cell phone video that was supposed to stay private.
The site currently offers video clips for 1609 stars - that's the number of guys listed when you select only men with movies. While some of the celebs I chose had only 1 movie clip some had 2, 5 or even 12, so I'd say there's an average of at least 3 vids each.
All of the videos are available as MPG's, and some in WMV format, as well. Many of the vids I downloaded were in the 320x240 or 384x288 size range, but some were as large as 720x480. Quality is all over the map, which isn't surprising since some vids are taken from mainstream movies, some by news sources and some on cell phones. Each clip is anywhere from a few seconds to several minutes, although many are in the 6 seconds to 50 seconds range. The videos are all downloadable and DRM-free, always a plus.
When it comes to pics, size and quality are all over the map, just like the videos. I found pics as small as 187x301 and larger pics up to 745x1022. Quality ranged from very good to pretty poor, but that makes sense since the pics are a mix of paparazzi pics, high end magazines, movie production stills, cell phone pics, personal photos and shots caught by fans.
It ain't easy figuring out how many male celebs here have pics. There are over 1000 soap opera hunks, but since they're listed by soap (General Hospital, As The World Turns, Falcon Crest, The Young and the Restless, Dallas, etc), I can only give an approximate count. The same applies to movies (called Flicks. over 500 male stars) and Television (45 shows, over 350 male celebs). Add in 400+ guys combined from athletes, singers and models and you have over 2000 male celebs listed.
Let's talk updates. 128 celebrities have had at least 1 pic or 1 video added to their page in the last week, and more than 10 had content added today. That means there's always going to be something fresh for members every day.
When it comes to features and extras, there's some things celeb and porn lovers should enjoy. There's several sections of gossip and scandals plus the site's 100 top celebs, listing Ricky Martin, Channing Tatum, David Beckham, Hugh Jackman, Will Smith and Orlando Bloom, to name a few. Something you may not have expected is that you can also browse thousands of female celebrities from Jennifer Aniston, Keira Knightley and Jessica Alba to Pamela Anderson and Cher. And the site also offers at least 6 gay feeds that are also broken up by episode in the XXX pics and videos sections.
There are some things I didn't care for. First off, the trial membership, that is listed as "Free" actually costs a dollar. The join page has a pre-checked offer on it, and the trial memberships recur at about $10 more than the cost of a regular monthly membership. Site navigation can get confusing, but that's normal for celeb sites. There are ads at the bottom of every page and often there are banners on the sides, as well. There are also links to buy some mainstream movies. And sometimes pages took a while to show up.
Male Stars delivers plenty of male celebs including movie stars, singers, models, TV actors and athletes. The site has daily updates, video clips are downloadable and you can search by name or browse by category. Content was normal for this type of site, and there's lots of it, plus access to an entire database of female celebs and some porn bonus sites, too. While lots of the pics and videos aren't fully nude, there's famous cock and ass here plus lots of shirtless and sexy men. The bottom line - if you want to your favorite celebs naked - or at least semi-naked - Male Stars may have just what you're looking for.