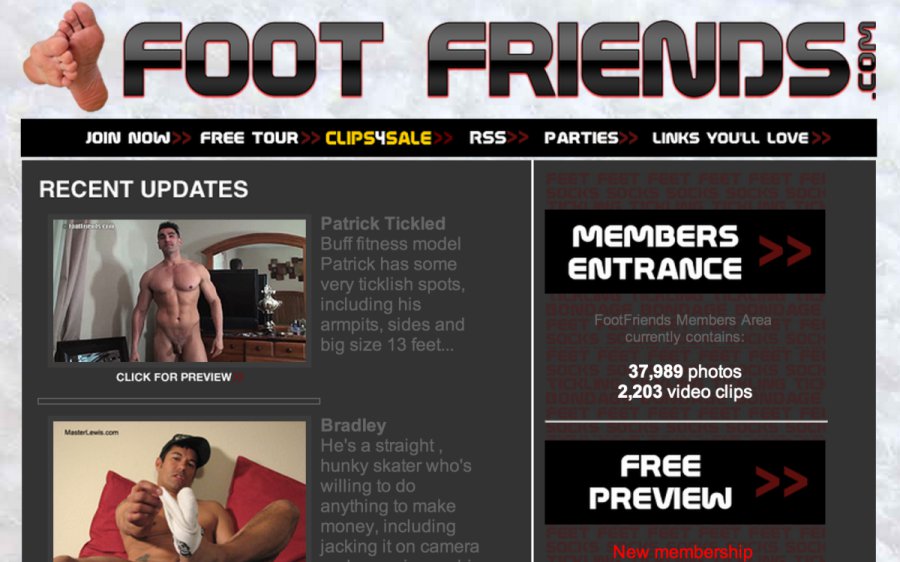 Foot Friends is a male foot site that delivers twinks and jocks, hairy men and hunks, executives in suits and regular amateur guys in male foot fetish sessions. The models range from 18 and 19 year olds to men their thirties, with many in their twenties. The action varies; some get naked, and jerk off with the soles of their feet in front of the camera. Others play with and stroke their feet or suck their toes, and then there are tickling and foot worship videos and pic sets. There's always a focus on the guys and their feet, sometimes socked, sometimes in shoes that are stripped off, and there's plenty of bare male feet, as well.
The exclusive videos here aren't just your average foot fetish vids because the Foot Friends crew aren't just porn site owners who buy their videos - they're foot lovers themselves. Besides hosting regular foot parties in several states, the folks at Foot Friends shoot their own pics and videos, and it shows they know how to show the guys, and get them comfortable while their reveal their feet. Sometimes that means well-groomed feet with smooth toenails, other guys have sweaty feet that are rougher. The action is well-caught because feet are what turn the guy behind the camera on. And that's something that sets this site apart.
There are currently 266 DRM-free videos, 59 more than there were 4 years ago. Good news is that the site is updating weekly, but only half the updates are videos. Content is offered in 5 categories - Footboys, Footmen, Tickling, Socks and Shoes, Boots & sneakers. All the videos are offered in Quicktime, the newer ones shown at 640x480, and quality is fairly good amateur or better, partly depending on lighting. Each new video is also available as a streaming or downloadable clip. The older videos are only available as clips and they're about half the size of the newer ones. What's more important is that the oldest videos are streaming-only - you have to buy each clip to download it.
Now let's look at the pics. There are currently 752 picture sets, and all the pics are digital stills, most good amateur quality. At 640x480 to 650x850, the pics may not fill your monitor, but they are big enough to make out the action and the details down to the toenails and slight callous on the heels. There's plenty of hot guys and extreme foot closeups, showing that Foot Friends really knows feet.
Were there any issues or quibbles? There's the already-mentioned update vs site growth situation. While the site now seems to be adding weekly updates, videos are only added every other week, and it seems that for a while less than half the updates were videos, as the photo section has grown a great deal. Since our last visit the site has removed the extras they used to offer, although the extra pic sets help to make up for that. And I was disappointed that the oldest videos aren't available for download unless members pay extra - although I'm happy that the newer vids are downloadable.
Foot Friends delivers exclusive gay and male foot content by category, and feature plenty of hot guys from twinks to hunks. The videos are DRM-free, fairly good quality or better, and fun to watch. The pics are also good stuff, showing off the models and their feet to perfection. There is no filler at all - everything on Foot Friends is for lovers of men's feet by lovers of men's feet. The catch is that it appears that half of the weekly updates are pics-only. Still, if you love feet, there are over 250 foot videos and 700+ foot pic sets. But what foot fans are really gonna like are the men, the action and the definite focus on feet, whether bare or in socks. If you love amateur guys, foot play, masturbation and tickling, why not check out Foot Friends and see what they have to offer?