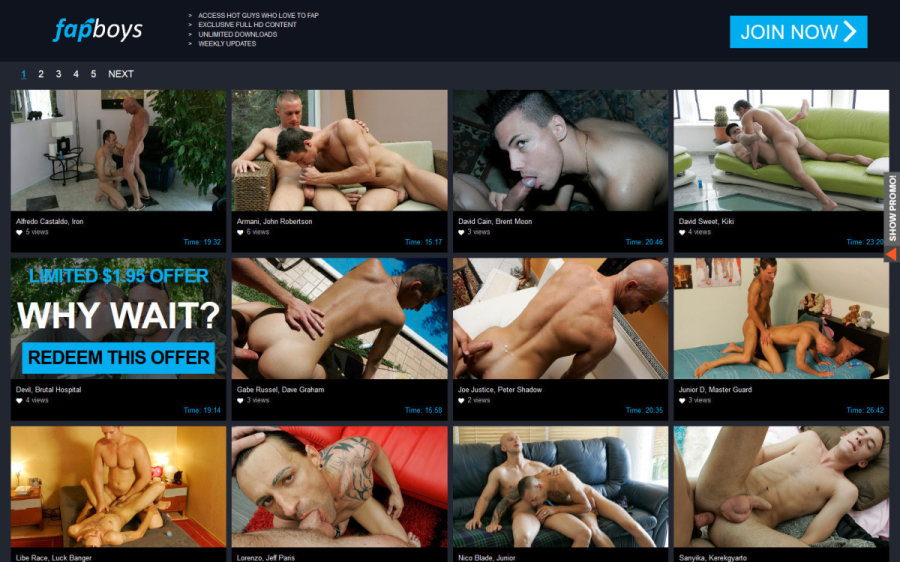 FapBoys is a recently launched site that features muscle hunks, athletic jocks and some guys who are slender and appear to be amateurs; there's also a few average types and one hairy chub, but for the most part the guys are in good shape. The performers appear to be in their twenties and thirties, some smooth and others with unshaved body hair; some are tattooed while others are ink-free. Many of the guys here are European, so you can expect plenty of uncut cocks, some average sized and some nice and large. And something I noticed is that some of the performers appear clean-cut while others are rough around the edges, which makes for a nice contrast.
There are some familiar faces here. There's swarthy and versatile Nick Daniels, who not only jerks off in a couple scenes, but gets fucked in one and does the fucking in another. You'll find built skinhead Peter Shadow, Joe Justice from sites like UK Naked Men and Colt, as well as Martin Love, who's appeared on a variety of sites from Sweet And Raw to Hot Desert Knights. There are also three videos featuring the late (and very sexy) Denis Reed.
If you're familiar with the term "fapping", you know it refers to the sound your hand makes on your cock once you get going during masturbation, and you will find guys showing off their erections and stroking their cocks here. There are guys jerking by the pool, in bed, on the stairs, the couch and the shower - there's even one dude who bangs one out in a tanning bed. But oddly, considering the name of the site, the 17 most recent updates are all hardcore, as well as a few more episodes, with plenty of guys sucking dick and boning horny asses before they empty their balls, with a little stroking here and there.
FapBoys currently offers 83 exclusive videos in MP4 format. While the newest updates are dated a couple months ago, keep in mind the site just launched so these dates don't mean much, and the site is promising weekly updates. The downloadable videos are offered in four sizes, the largest of which is sized in full HD at 1920x1080, there's a smaller HD size for those who need it and the smallest sized at 480x270, which is good for smaller mobiles. Video quality is good amateur, and in addition to the downloadable versions, each vid can be streamed in the same quality levels.
All but one of the videos come with picture sets. The pics are good amateur quality digital stills sized at 667x1000 or vise versa, and they show off the men and the action, but sometimes there are less closeups than I would have expected. Also while sets range from 57 to over 150 images each, some of the larger sets have a certain amount of repetition between some shots. Photos can be downloaded individually or as full sets in zip files, and while there are no slideshows, you can easily navigate from pic to pic using the arrows on the left and right sides of each pic.
Now let's talk about some downsides. Usually this is the paragraph where we tell you about the site extras, but while the tour offers "3 bonus twink sites featuring 1000+ HD videos", I was unable to find any bonus sites. Trial members get limited access; they are restricted to the four latest updates, and while the site hasn't started updating yet - it just launched - the dates shown July of 2016, which is currently two months ago and might confuse members.
FapBoys features plenty of horny guys, mostly European, which means lots of uncut cocks. You'll find many of the performers, a mix of amateurs and porn regulars, fapping (jerking off) while some episodes - particularly the newest ones - feature guys giving and receiving blowjobs, fucking ass and shooting their loads. The 83 videos are exclusive and can be downloaded, streamed or watched on most mobiles. While the site has some issues, keep in mind that it's new, and it's possible some things will be fixed in the days to come. In the meantime, you can watch some very hot guys fapping (or sucking and fucking) in HD and mobile videos at FapBoys.