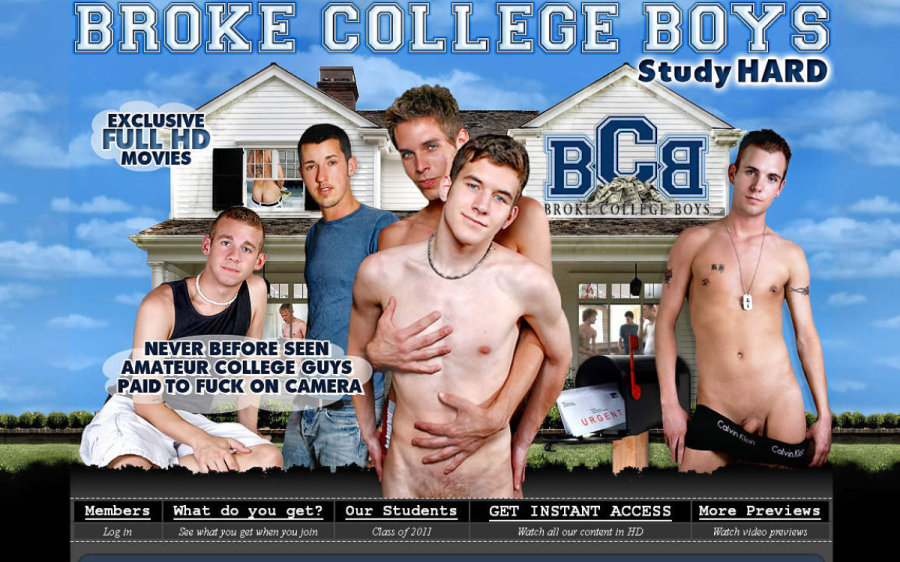 Broke College Boys is exactly what it sounds like - a site featuring horny college guys who do porn because they need some cash. While it's hard to know for sure if these are actual college students, I'd say all the guys are between 18 and 24, which definitely puts them at college age. Most of the performers are athletic or slender, and they range from twinks to jocks to your basic regular college guys. Most of the models are the kind of dudes you would expect to find in a dorm; some have a clean, all-American look while others are on the scruffy side.
The site focuses on hardcore twosomes, threesomes and even a foursome, although there are a few solo guys in the mix, as well. Each video has a little chat with the camera man, who asks the guys their names and lets us get to know them a bit - he starts offering them money to undress and then more money to do more stuff. There's plenty of kissing, fucking, sucking and rimming. Some of the guys appear in more than one video, and the photographer refers to the fact that some of the guys have worked with him a few times in the past, so while the guys may be college students, they are not all porn first timers. In a way, that works for the site - the guys are sort of comfortable getting naked and messing around for the camera.
Broke College Boys offers 94 exclusive episodes, each with pics and videos. Since the episodes are dated, it's easy to see that the site has unfortunately stopped updating.
Each video is offered in downloadable WMV and MP4 formats. The biggest and best of both formats is shown at 1280x720 at good quality, and enlarge to full screen with little or no loss of quality. There are 2 or 3 smaller broadband sizes and a "portable" version for mobiles, which is suitable for your iPod or other handheld device. The videos are available both as full scenes and clips, and all are DRM-free. You can also watch the full scene in streaming Flash if you prefer not to download the videos.
Each video comes with a set of pics shown at either 902x509 or 902x1352 depending on orientation. These pics are good amateur quality, and while I did wonder if one set was screencaps, if they are - which I doubt - they're darn good ones. Each set has over 80 pics and covers the action well, although there may be a bit of repetition.
In addition to the Broke College Boys videos and pic sets, members get access to several bonus sites including a college sex sites, 3 exclusive single guy sites - Josh Tucker, Alex Dark and Chip Carson - and a twink site called Boy Alley. There's also an exclusive site called Boy Gusher that offers more amateurs in hardcore and solo downloadable videos. While there is also a link to Live Shows in the links, and there are live guys, the shows require that you pay if you want any nudity or action. Last is a forum, but it's no longer active.
The site does have some issues. As mentioned, there are no more updates. Another thing potential members might want to know about is that on the join page there's a pre-checked offer. If you leave it checked, you will join a second site. You might want to be sure to read the offer before you join the site and decide if it's for you. A couple more things are that trial members may get limited access to the site's content and trials recur at $10 more per month than the cost of a standard monthly membership.
Broke College Boys shows college boys getting naked, getting nasty and getting off for cash. The models are the right age and many have that collegiate look. On the other hand, some of these models have appeared on other sites in this network, so they're no porn virgins. Still, they're having fun, the 94 HD videos are good quality, DRM-free and downloadable, but the site has stopped updating. Members do get access to some bonus sites to help keep them busy. I wish the site still updated, but I did like the playful and horny college boys sucking, fucking and shooting their loads at Broke College Boys.