Blacks on Daddies
Reviewed by GayDemon on 7 Jun 2010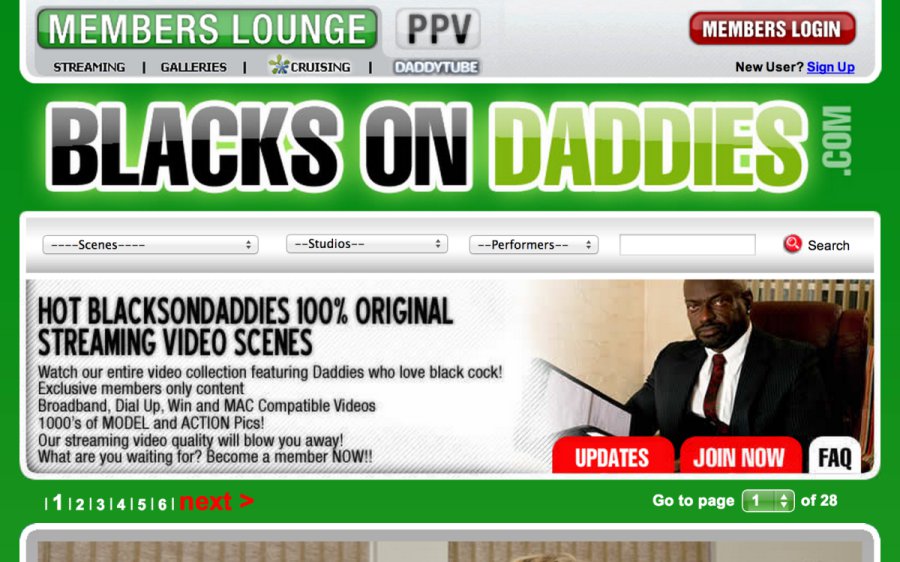 Here's a site that combines two gay themes - older men and interracial. For those who love watching ebony studs with big black cocks fucking horny older men, Blacks on Daddies is the motherlode. I haven't seen an older man interracial site before, especially featuring the mature silver-haired daddies I see on this site. There are men here who look authoritative in their expensively cut suits who are sucking on huge ebony rods - there are even some guys in their 70's and I see one in his 80's! So far, this looks like very interesting site.
The Blacks on Daddies member area is easy to navigate, each video being listed with a big juicy pic, a description and links to the videos and gallery. The site currently offers 106 episodes, each with video and pics, and the updates page shows the dates for each update - the site has been adding a new episode every two weeks. You can browse from page to page, by performer or studio, or there's a handy search box, although some of the terms I tried got no results. The only ads on most of the pages are for PPV (pay per view), but they're clearly listed.
The videos here are offered in streaming WMV format, the older videos shown at 712x472 with a 728k bitrate and the newer ones at 852x480 with a 748k bitrate. The older videos are average quality or a little better, the newer ones are a little lower in quality but still quite watchable. Each video is offered in 2 smaller sizes, and are DRM-free, but there are no downloadable versions offered.
Each video comes with a set of pics, which are good amateur quality or better digital stills that are shown at around 800x1067. They show off the action well, although the thumbs are cropped so that they don't always show the entire pics in a smaller version, but show only part of some. There are also 3 galleries in the GALLERIES section that are collections of pics in 3 niches - 4 pages of screencaps in Video Pictures, plus sets of digital stills in the Blacks and Daddies sections. These pics aren't in series, they're pretty much random, with only 1 or 2 pics of each guy per page.
The tour gives a very good idea of the action and the performers, so if you like what you see on the tour, you're going to love the performers in the movies. For those who are turned on by mature men but have never seen real older porn, there may be a feeling of shock when you see a grandfatherly type taking loads of cum from two black gentlemen after sucking on their cocks and getting fucked by first one and then the other or a 60 year old business man rim a cute ebony amateur one-third his age.
In addition to the Blacks on Daddies videos, members get access to 13 additional gay interracial videos, plus there's links to the Older 4 Me personals site. There's also a link to a daddy tube site, but all the videos there are trailers rather than full scenes.
While this site used to be a pay per view site, but now offers a subscription member area as well. That means that instead of paying to own a single video or paying by the day, interested surfers can join the site and watch all the videos they want. Those who prefer can still pay to rent or to own each video separately rather than subscribe.
I did run into one issue. While the the galleries and videos worked fine for me in Internet Explorer, they did not work for me in the latest version of Firefox. If you run into this problem, the issue is easily resolved by logging into the site in Internet Explorer and viewing the content there.
Blacks on Daddies delivers cock-hungry older men from business men to casual guys over 60 to retirees who can't get enough big black dick. If you're looking for interracial gay porn between ebony amateurs from 18 to 30-something and white men from 50 to 80, this is the place to be. The action is hot, the videos and pics are exclusive and the site updates twice a monthm, although I was a little disappointed that the videos weren't downloadable. There's also some bonus material. What I like about this site is it's pretty much the only site where you can see daddies over 50 getting fucked by black guys half their age. If you're looking for interracial older/younger gay sex, Blacks on Daddies is a site you won't want to miss!