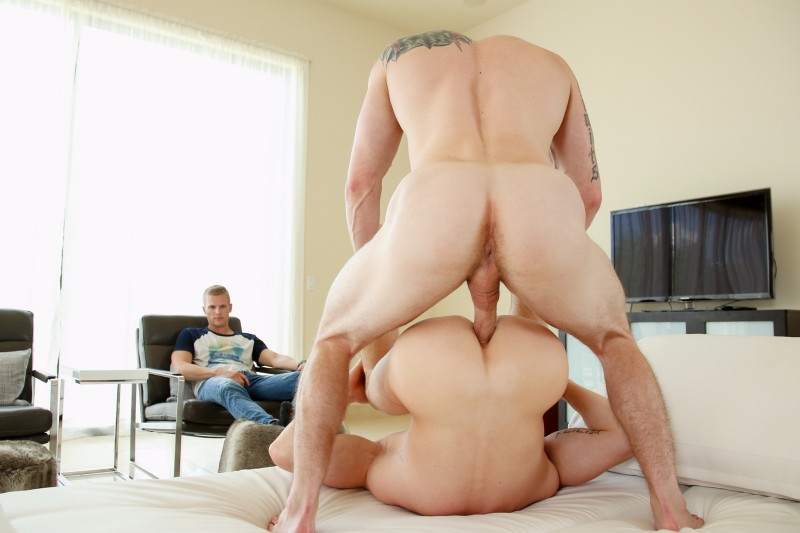 Get a 1-Day Trial for $1.00 at Next Door Raw
Markie More is on top of Jake Davis, the pair are naked and they're kissing passionately. "Hey Markie," a voice calls, "My boyfriend likes his ass eaten." The camera pans out and we see a fully-clothed Ty Thomas sitting in a chair watching the pair. Come inside and see how far this one goes.
This is the first part of Next Door Raw's While He Watches and it features Ty Thomas who surprises his lover, Jake Davis, with a rather unique birthday present. He's arranged for Markie More to come over and fuck his boyfriend. When Markie arrives Ty lays out the plan, but tells Markie that he wants to watch.
Jake arrives home to find his birthday surprise. Markie leads him to the chaise lounge, the pair begin making out and strip. Ty sits clothed in a nearby chair and watches. The pair kiss, then Markie inches down Jake's body and lips his stiff cock. He swallows it, gulping it down to the base, then at Ty's request, Markie puts Jake on all fours and eats his ass. After feasting on the stud's hole, Markie slides inside. I don't know for sure where part two is going, but after satisfying Jake's ass, Markie looks up at Ty and asks, "Do I get to fuck you next?"