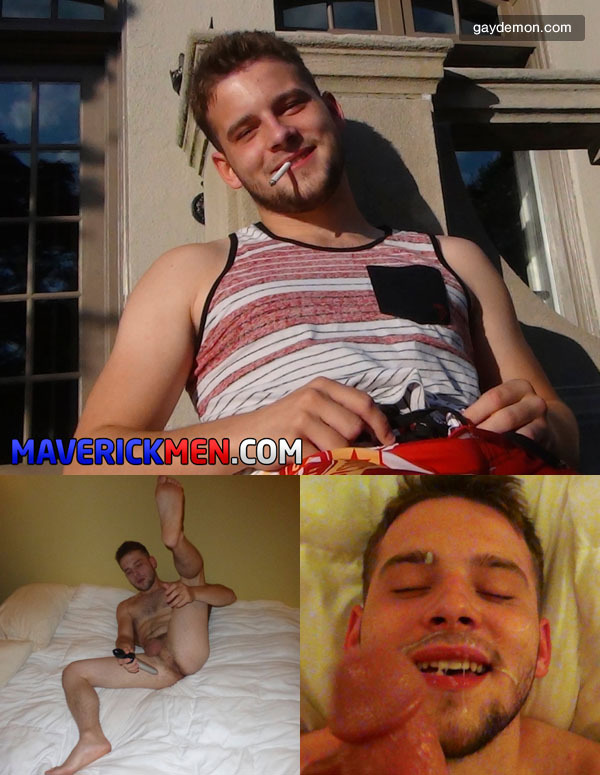 The guys running Maverick Men sure know where to find the hottest guys to film getting fucked on their site, and this recent update with the normally straight, but sometimes bi, hot, young and charismatic guy named Lucas sure is a doozie!
Lucas is one of those wise-arse guys, playful, sexy, a bit disrespectful - a real cock-tease, with a cheeky answer for everything! He claims he's normally straight, with a bit of bi thrown in on occasion, but today he's going full-on gay, tho he doesn't actually know that at the start of this video!
The Maverick Men guys know Lucas's type, someone craving attention, and willing to do whatever it takes to get it. So they play up to his desires and treat him just like the hungry little cock whore that he wants to be today! They start off outside by the pool, Lucas is smoking, drinking and teasing them - he even drops his pants and shows off his hairy arsehole, saying he wants to be fucked by the "Maverick Men" and that he's also going to suck their cocks - "slobber all over them" are his exact words - then he claims to be a good kisser, so the Maverick guys say they both want to be passionately kissed by this hot straight guy while they are fucking his tight little straight-boy's arsehole! Lucas just laughs and agrees!
Once things moved indoors they really heated up! The Maverick guys stripped Lucas naked, got him to show off his hairy arsehole, then arse-fucked him with a big ten-inch vibrating dildo! Lucas easily took it all the way in and he was soon moaning and groaning, rolling his eyes back into his head, in sheer total ecstasy!
Things then just got hotter and raunchier - the Maverick guys took turns face-fucking Lucas with their big hard cocks until he choked on them and couldn't take them anymore. Then they rolled him over and started to take turns pounding his arsehole so deeply that this straight boy was soon begging them to stop! Then he jokingly said - looks like I am gay today - and he was right, with a cock in his mouth at one end, and another up his butt at the other, he sure was looking very gay!
Lucas said he wanted them to finish off by cumming all over his face, so he could have their cum dripping down his face and into his mouth, as he wanted to taste and eat it - naturally they gave the dirty little cum-tramp what he wanted. Then afterwards, this dirty little whore, still naked and all covered in cum, started jacking off to some of the Maverick Men porn scenes on their laptop - but as he'd cum so many times from all the prostate stimulation he'd just received, poor Lucas couldn't get his dick hard enough to cum again for over an hour!