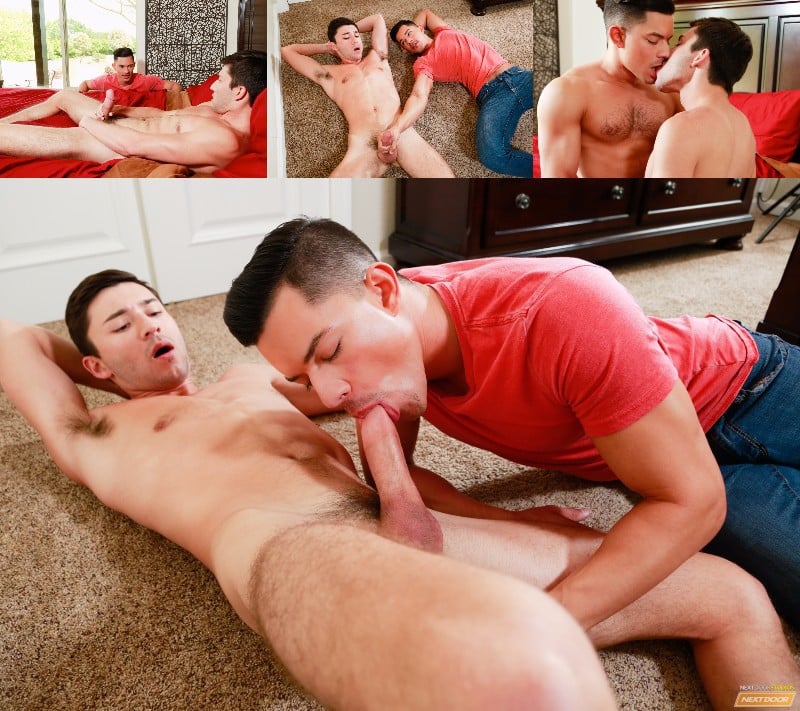 Get a 3-Day Trial for $1.00 at Next Door World
Ethan Slade wants to surprise his buddy Scott Demarco for his birthday, so he hides in the stud's bedroom. Lying on the floor on the far side of the bed, Ethan waits until Scott pops in a porno and lies back to stroke his dick. Suddenly, Ethan pops up and scares the bejesus out of Scott. Come inside and see what happens next.
Scott dives across the bed and tackles Ethan. They fall to the floor wrestling. Demarco completely forgets that he's naked. When they finally stop to catch their breath, Scott realizes that's he's still popping hard and places his hand over his erection. Scott and Ethan are best buds who have never fucked before, Scott doesn't he know he wants to. He certainly doesn't know that Ethan has been crushing on him.
Ethan can't resist his naked buddy and leans over and pulls Scott's hand off of his cock. Scott doesn't stop him, so Ethan swallows his buddy deep inside his mouth. Scott caresses Ethan's head as he bobs on his dick. They move to the bed and Scott gives Ethan some head. Ethan has been fantasizing about this moment for a long time, but he's even more thrilled when he slides up to ride Scott's stiff prick and his buddy doesn't stop him. You won't believe what happens next, head over to Next Door World and watch the free preview.