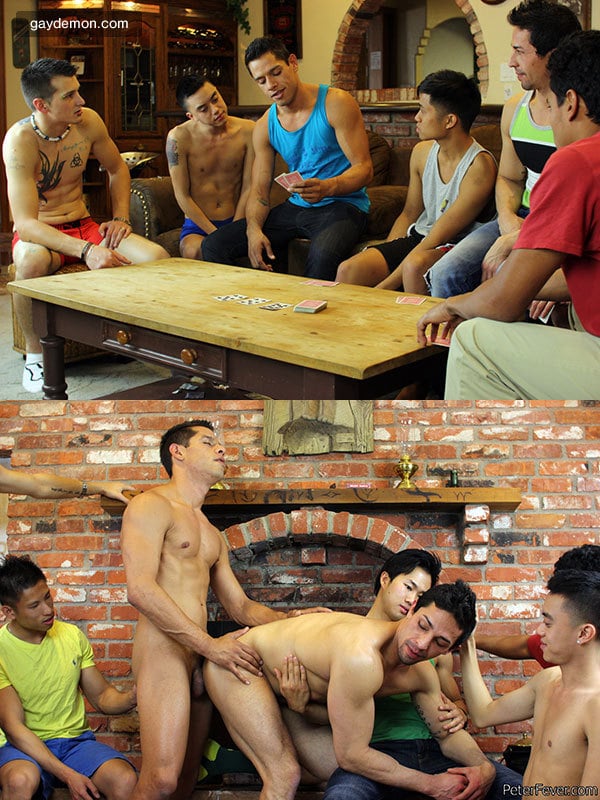 When eight gay guys get together for a game of strip poker, you know what's going to happen -- the fun is just getting started when the losers start shedding their clothes. A couple of weeks back Peter Fever rolled out the first scene from their new series called "Strip Poker - Texas Hold-Him" and this week they added episode two: "Strip Poker - Poker Bitch."
Here's how these guys play strip poker: The first guy with a losing hand strips naked, not one piece of clothing at a time, but everything. And Bobby Hart is the first loser and the other seven guys watch as Bobby's clothes hit the floor. After another round of poker, sexy muscle stud Mikoah finishes with the losing hand.
But the thing with strip poker Peter Fever style, Mikoah isn't really losing. Bobby Hart has to strip his poker buddy, and with the other card players watching, Bobby and Mikoah get into some kissing. But the rules in this game are very confusing. You'd think Hart would be serving up his ass since he was the first man out, but it's actually Mikoah who bends over. Bobby Hart has a huge cock, which he slides into the stud's ass. Wait: Is Mikoah the winner or the loser? It's so confusing, but a lot of fun to watch. Can't wait to see what episode three brings to this dirty game of poker.