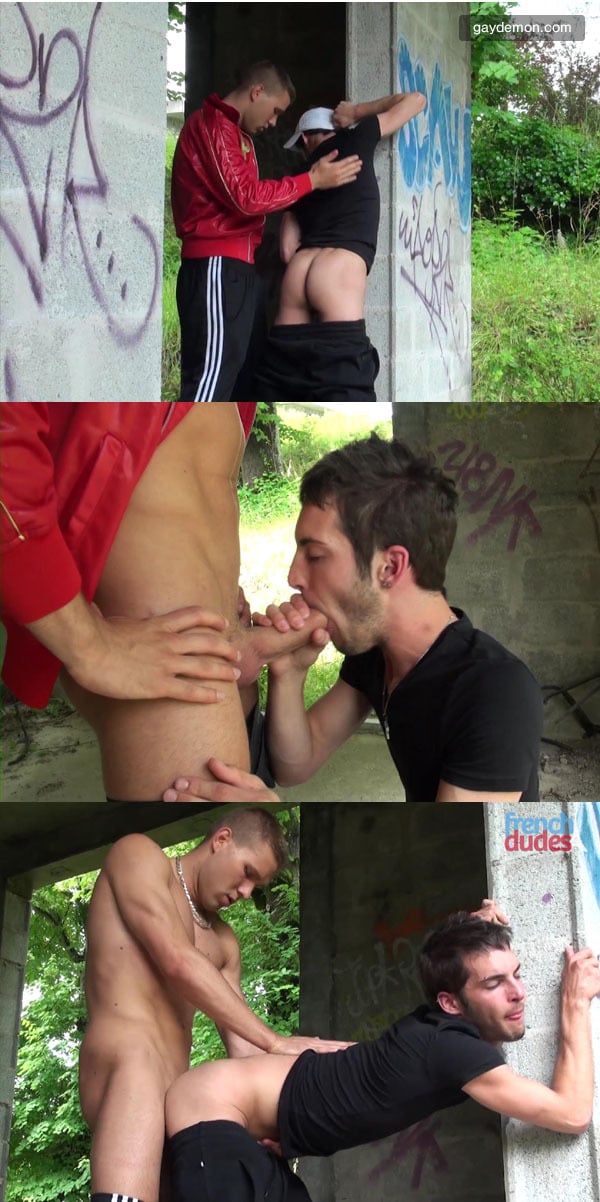 When the French Dudes camera team told Richy Dime that he was going to be doing a scene with Jordan Fox, he kinda shrugged his shoulders and basically said - yep, no worries, he's not that tough, I can handle him! Well, things could hardly be further from the truth - or can they?
Seriously folks, Jordan treats Richy like absolute shit in this video - he slaps his face, slaps his arse, and not in a playful, sexy way, then shoves his big, fat, hard uncut cock into his mouth - roughly and deeply, and doesn't care in the slightest that Richy is slobbering away, almost choking on both the cock and his own saliva! But I am getting ahead of myself ...
Things start off normally enough, we find Jordan cruising an abandoned building where he finds Richy, leaning provocatively against a wall, pants down at the rear, showing off his bubble butt, inviting the top to have his way with him. Jordan obviously likes what he sees and accepts the implied invitation. He moves in and starts slapping Richy around, then pulls his hard cock out, pushes Richy to his knees and shoves his dick towards Richy's mouth - Richy opens wide and starts sucking for all he's worth, and all the while Jordan is using Richy's mouth he is also abusing him, both physically dominating him and verbally humiliating him into total submission.
But soon Jordan wants even more, and bends Richy over and slams his hard cock deep into Richy's arsehole, screwing him totally for his own pleasure. Then, when it's time to cum, he pulls out and jerks his load all over the ground, then zips up, spits on Richy's face, turns around and walks away!
Naturally we think the bottom has been totally used, abused and screwed, but then, amazingly, we see Richy sit down on the ground, pull his own rock-hard cock out (which we have not even seen until now) and jerk it until he spews out his own creamy load all over his stomach - and then he simply looks up, straight into the camera, and gives it a sexy, bemused look and a cheeky, knowing wink. Perhaps things happened exactly the way this talented bottom boy wanted them to go down after all?