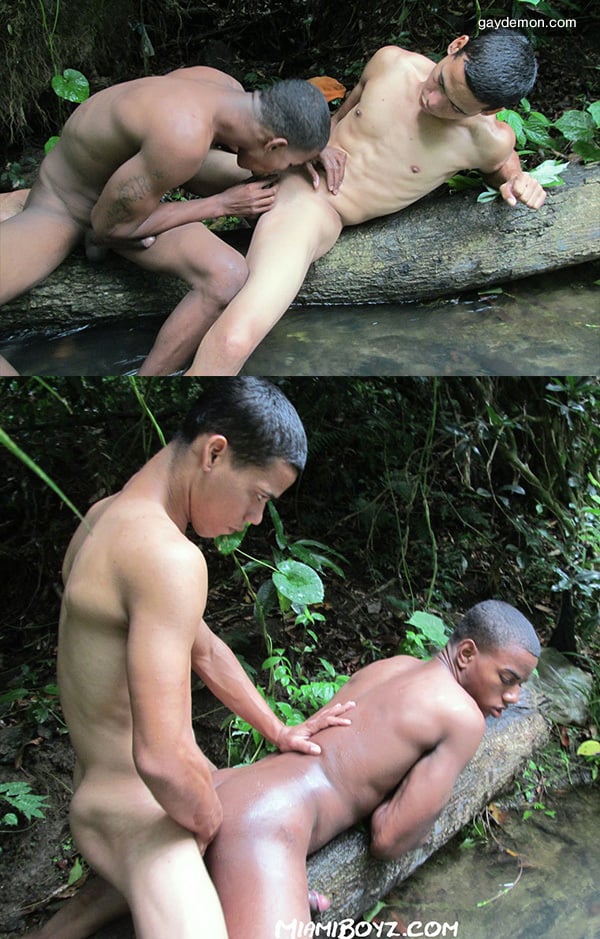 Last night my partner was telling me about an episode of Sex Sent Me to the ER where a couple were having sex in the woods and the guy rolled over onto a hornet's nest and the woman had been lying on a bed of poison ivy. Ouch! And ouch! Then this morning when I open my assignment queue, I see Miami Boyz Alan and Martin fucking on a log by a river. Ruh roh.
Alan and Martin have been two of the most popular guys at Miami Boyz and they've been sucking and fucking their way through several scenes, just not together. Alan is a cute, 19-year-old guy who has bottomed for a few of the guys over there. Martin is a long-dicked, straight guy who only agreed to start doing guy-on-guy sex if he only topped, and he did that.
So if we believe the back story, this new scene is Martin's first time sucking a cock and getting fucked in the ass. Frankly, none of that matters to me, it's a hot scene with two guys sucking, fucking, and getting off in a secluded spot on a river. That's infinitely more sexy to me than whether this is really Martin's first time. Although seeing how big his cock gets makes me horny to see that thing sliding into a bottom's ass, so I'm off to watch Martin fucking Felix in the woods.