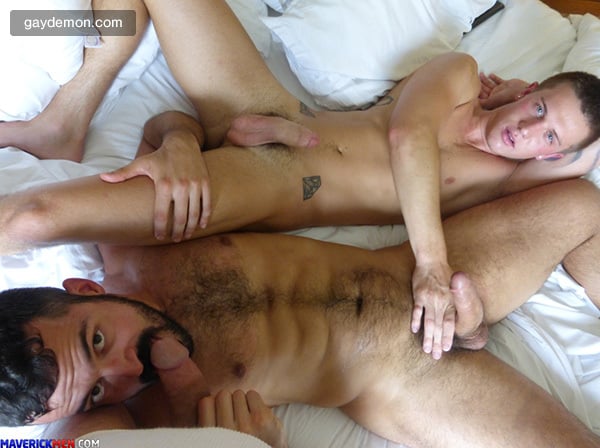 A close-up butt hole can be a good or bad thing. I've seen some close-ups where I wondered if there was even a person looking through the camera when the picture was snapped. Seriously? You want me to look at that and get hard? Fortunately, Cody has a beautiful hole ... the kind that you not only like looking at, but burying your face in for a good, long slobberfest, and of course your cock too, if you're into that kind of thing.
Hunter and Cole at Maverick Men are very much into fucking hot puckered holes attached to cute young men. Salt 'n pepper daddy Cole says that he beat off several times while editing this fuck session -- that's a very good sign.
Hunter and Cody come in from the pool and they sit down at the dining room table and start rubbing each other's cocks. Cole is off in the bedroom, lying on the bed and filming through the doorway. "I can't see his cock, Hunter," he bellows. Cole keeps interrupting and calling from the bedroom until finally Cody comes bounding in with his big, stiffening dick bouncing in the air.
Cody unbuckles Cole's pants and reveals one monster bulge in Cole's tight, white underwear. "Hmmm ... look at this," he says. While Cody swallows Cole's huge dick, Hunter is filming his own fingers play with the lad's butt. Everything turns wild from there as these two daddies take turns plowing the boy's hole. They alternate between filming their cocks sliding into that pretty hole and focusing on his facial expressions as they plunder his ass. And then there's the simultaneous cumshot Hunter and Cody blow. Lots and lots of hot stuff to see here.