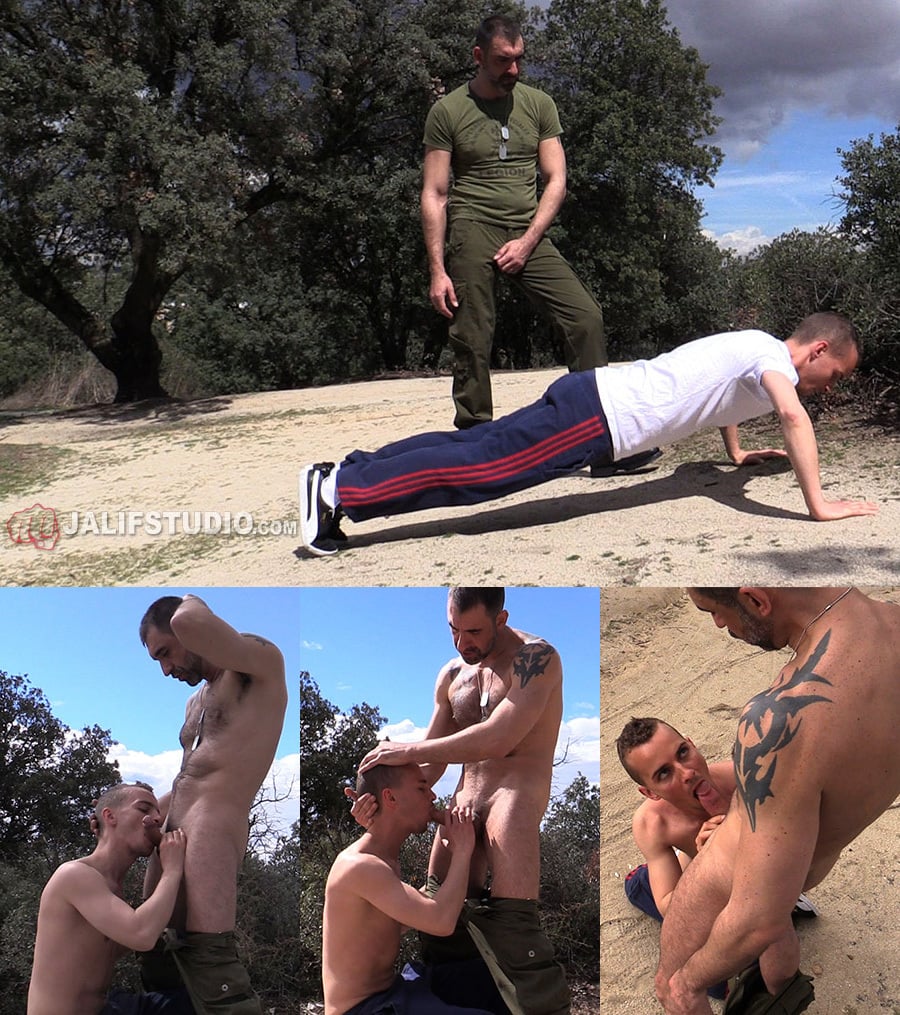 Ivan Fisker is a cute blond lad, a Spanish stud who wanted to be trained as a proper slave boy. So he went to Jalif Studio and they hooked him up with sexy daddy Turbo Leon. He likes his boys in tip top shape, so they head out to a secluded spot outdoors and Turbo begins this training session with some push-ups in the dirt. Then Turbo orders Ivan to peel off his shirt and kneel for some oral training.
Turbo Leon is a sexy Spaniard, he's ruggedly handsome and keeps his salt 'n pepper beard trimmed short. He's 38 years with a strong, masculine body that's nicely muscled and covered in fur. And he really is a Master, he even sports a don't-fuck-with-me look on his face. And when he barks his stern commands, Ivan does what he's told. Turbo's cock is uncut and thick and Ivan opens his mouth and swallows as much as he can. It's inadequate. His Master hold his head and thrusts his swollen meat deep down his throat -- Ivan gags a little, but he holds it together.
Turbo orders Ivan down on all fours, he spits into the lad's ass and roughly works his hole open with his fingers. He lines his cock up against Ivan's spit-lubed rosebud and pushes inside. The lad yelps, but his Master keeps inching until he's buried balls deep. He holds Ivan's hips and thrusts hard into his ass and the drilling continues for several minutes. He pulls Ivan to his feet and leans him against the tree and continues his boy's anal training in the shade.