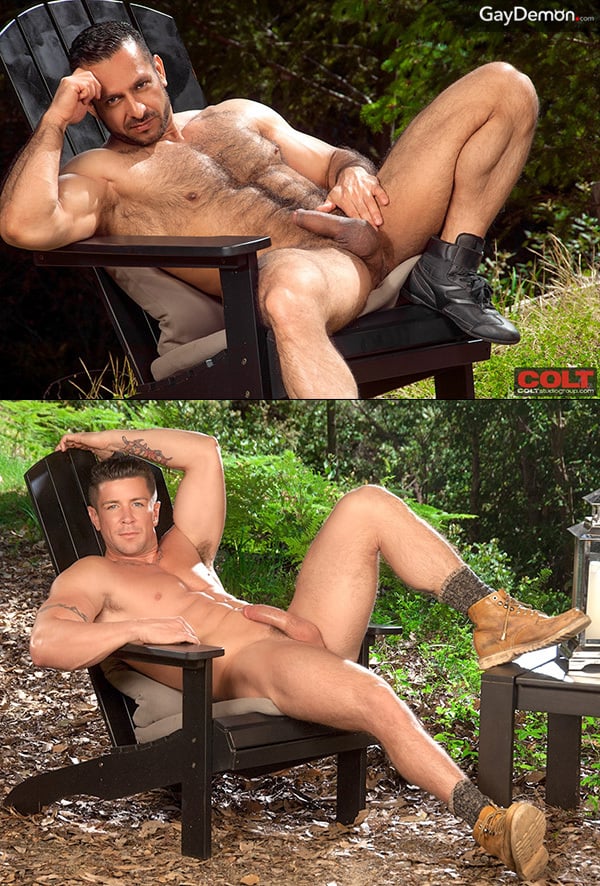 Tretnon Ducati is lying back in his red long johns at his camp site in this new COLT video called Muscle Ridge. The muscle hunk thinks he's alone and he's enjoying stroking his meaty-thick big hard-on in a patch of sun that warms his hard-muscled body. But hairy muscle hunk Adam Champ is watching a short distance. spying Trenton through a pair of binoculars.
Champ moves in closer and Ducati spots him, but he doesn't stop jacking his dick. So Champ kneels between his legs and feeds on the hunk's cock. Then Ducati takes his turn, nursing on Champs thick and veiny uncut meat. But Ducati wants more than a blowjob trading session, so he kneels in his chair and Adam fucks his big, beefy ass.
Champ sits back in the chair with sweat pouring all over his hairy chest and Trenton rides his hard dick in a reverse cowboy and works up a sweat of his own. The only thing that would make this scene hotter is if a park ranger stumbled on this pair and joined in.