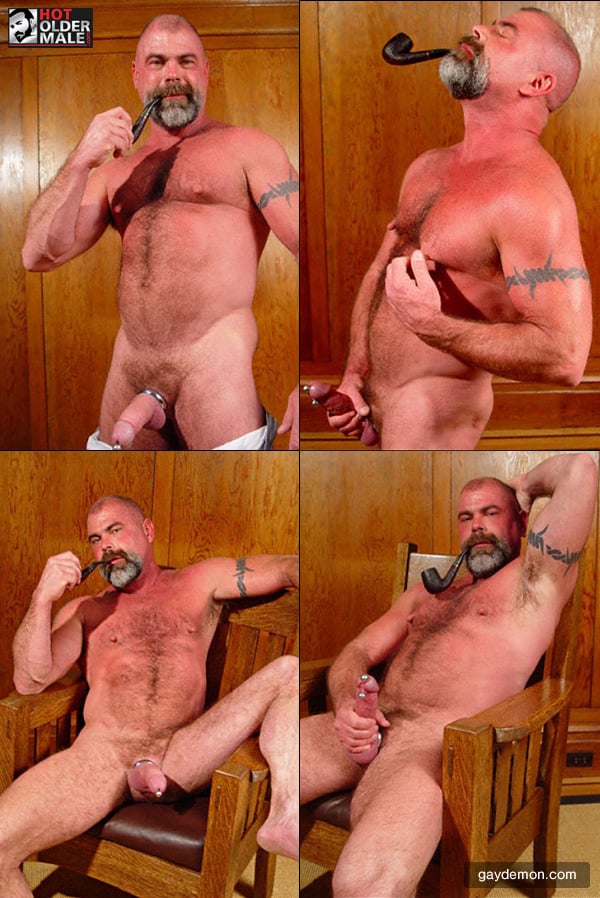 This week Steve Hurley "TitPig" broke a 5-year drought of filming with a new scene at Hot Older Male -- I couldn't be any more excited. Retirements and comebacks have become a big joke in the gay porn business; these days when a performer announces they're leaving the business, I usually say, "See you in six months." And I'm not often wrong. But everyone once in a while a true porn legend makes a comeback that makes a guy's dick stand and take notice.
TitPig's pipe-smoking, daddy-boy scene with Christian Mitchell is already on my "Best of 2014" list. When I started running gay porn sites back in 2003, TitPig was making his climb to the top where he stayed for a few years. He was well known for smoking cigars and pipes while he screwed some horny bottom. And it doesn't take much imagination to figure out how he got the nickname "TitPig."
But not only am I thrilled to see TitPig back filming, but I'm equally stoked that he's fucking Christian Mitchell, who happens to be a buddy of mine. Mitchell and I have been whispering about this scene on Twitter for weeks. And it's just as hot as I imagined.
In this video at Hot Older Male, TitPig and Christian Mitchell reunite for one of their daddy-boy scenes which stopped when Mitchell moved away. But he's back for a weekend and they're making the most of it. From the moment Mitchell walks in the yard, TitPig is running his dirty mouth -- this daddy could convince you that scrubbing the floor with your toothbrush is the hottest thing you've ever done.
I'm not going to ruin this scene with a blow by blow account of what happens, but I can't let those nipples pass by without a comment. Man, TitPig's nibs are bigger than ever, massive really. I'm so jealous of Christian and still ask him regularly to tell me how hot it was sucking and chewing those things.
After lots of dirty-talking head, Christian lies back in a leather sling and gets his hole stretched with daddy's fat dick. I've seen Mitchell shoot plenty of cum wads in his videos, but this straight-in-the-air jizz stream is impressive. This is one comeback you don't want to miss. And if you didn't see him the first time around, TitPig has five other videos over at Hot Older Male to keep you churned up, but you'll want to start with his latest one.