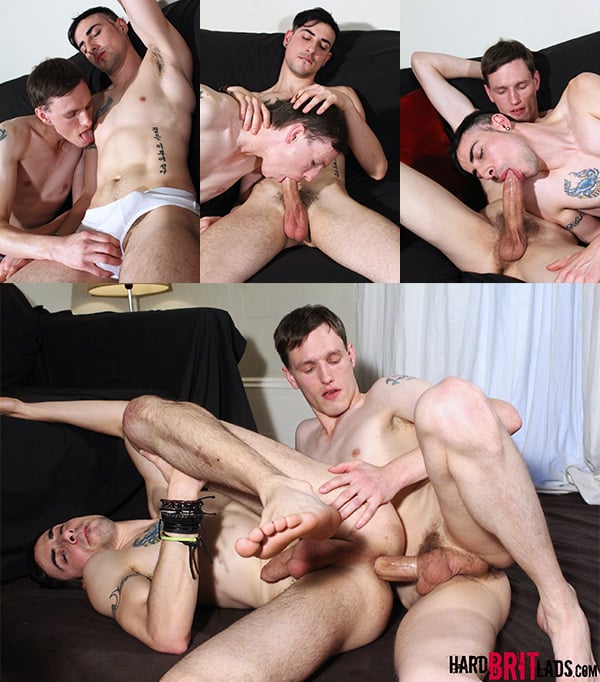 Timmy Treasure is a perfect porn name, don't you think? Especially since he's hiding a big, fat, uncut cock in shorts. Now that's the kind of buried treasure anyone is happy to uncover. (Yes, I just said that.) But if you're hoping to see Timmy sliding his thick bone in Danny Chase's ass, it's not going to happen. Timmy is the bottom in this Hard Brit Lads scene. In fact, Timmy has appeared in three hardcore videos at the site and he has never topped.
But Danny is no slouch in the dick department either. He's packing a whopper. He's also very scrawny and smooth, which makes his cock look all the bigger. Danny's hard-on stretches across his thigh in his Uomo underwear briefs and Timmy gropes and outlines it. Danny's Hard Brit Lads bio says he measures nine inches, but who knows, at times it looks huge at other times, just big. What do you think? Is it a niner? Do you care?
Timmy braces himself on the arm of the sofa and squats while Danny thrusts his pole up into his hole. And regardless of how long Danny's dick really is, Timmy takes the whole thing. Then Danny fucks Timmy on his back until he's ready to spunk and he kneels over Timmy's face. Holy shit! What a cum blast! It flies across Timmy's chest and splatters in his arm pit on the other side, then more jizz squirts on Timmy's chest, and the last blobs and gobs fall all over his lips and chin.