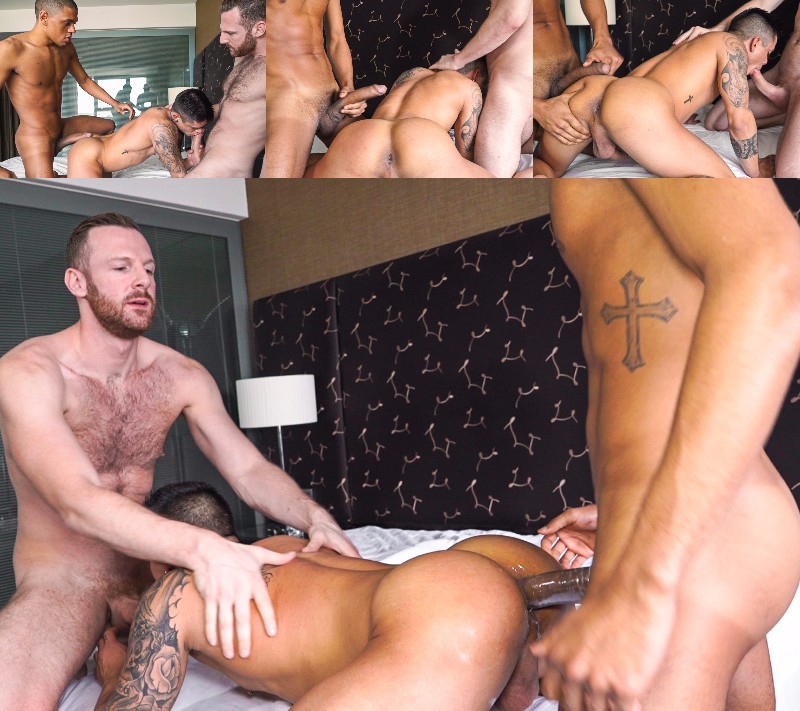 Ian Torres must have been a very good boy this year because on Christmas eve Santa brought him two giant cocks. Torres bottomed for Tim Tales' Tim Kruger back in October and Caio Veyron in November, and last week, he took on both mega-hung tops at the same time.
There's a lot prep that goes into bottoming, so when I'm lining up some bum fun, I like to get my money's worth, as it were. But studies have shown that most men cum in under 11 minutes, and that's not fucking time, but 11 minutes from foreplay to cumshot. But in this scene, Ian Torres is very lucky because Tim and Caio take turns stuffing his ass and when one of them gets close to cumming, the other takes over.
So not only is Torres in bottom heaven with all the non-stop pumping, but both tops have humongous cocks. And Ian gets his mouth filled quite a bit, too. Once the men have opened up Ian's hungry hole, they do some double penetration and this power bottom takes them both. And for Ian's final present of the night, he lies back exhausted and Tim and Caio cream all over his face.