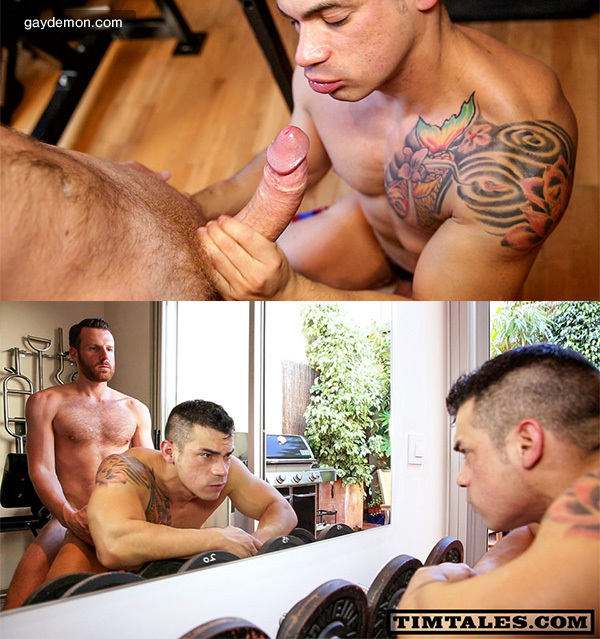 Fernando Torres is a top man's dream come true. He likes getting fucked and he can take a huge dick. There's no bellowing or thrashing about or wincing. Fernando just hikes his leg up on a piece of workout equipment and Tim Tales owner Tim Kruger starts sliding his 10 inches inside. Fernando breaths deeply until his ass has swallowed the whole thing. He makes it look so breathtakingly easy.
Fernando is a South American hunk who stayed with Tim and his partner, Grobes, in their Spanish home. Fernando was getting in a workout in the home gym when Tim spied him from the outside deck. Tim stands in the studio's doorway stroking his large, curved bone and watches Fernando doing biceps curls. Then Tim stands behind the hunk poking his ass with that huge hard-on.
This Latin bottom is in fantastic shape and he's very flexible, which I guess is part of the reason he makes this all look so easy. But the expression on his face, his intermittent deep sighs and wuuaahhs, and his soft moans let us know that he's feeling every inch of Kruger's bone. It's a challenge, but he's loving it. And I really enjoyed watching him take it -- it was exciting and inspiring all at the same time.